By Rachel Hastings
12 October 2021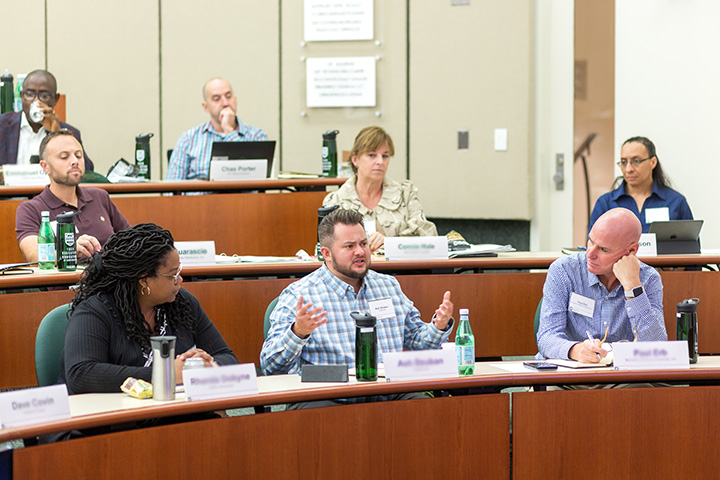 What does the first Monday back at work after the Tuck Leadership and Strategic Impact Program look like?
For some, the transition back to work can feel jarring. Armed with a new perspective, they find that the mechanisms driving—or limiting—forward movement are suddenly clear.
So how do participants take that 30,000-foot view and use it to make change?
A New Lens on Strategy
For many executive participants, the most profound takeaways from LSI include the ability to assess and understand their organization's strategy and prioritize accordingly. Molly Jerrard, director of wholesale markets and asset management at Enel X, found that her time at Tuck brought new clarity.
"I was in several meetings right after I came back, where different employees were operating on different strategic principles, like saving costs or serving customers better. We had spent a lot of time during the program discussing the importance of a central strategic principle, so I now saw that people were driving down different train tracks."
While Jerrard is not tasked with defining the company's overall vision, she now feels equipped to support it. "It's more about trying to encourage that type of thinking at the company level as well, and asking those questions—like why do we want to pursue this project instead of that one?"
Paul Argenti, LSI faculty director and Tuck professor of corporate communication, agrees with Jerrard's assessment. "Even if participants do not feel that their organization has a solid strategy, for example, they leave understanding that they still have the opportunity to shape the destiny of whatever part of the business they control."
Redefining and Communicating Business Practices
For leaders who do define organizational strategy, the LSI program offers key tactical insights. Like Jerrard, Irene Green, the managing director of Northern Stage, saw the concept of a central strategic principle for an organization as a gamechanger. "I'm planning to adopt a strategic principle for Northern Stage with our strategic framework committee, comprised of board and staff."
Karen Punda, a wealth management consultant with Cetera Financial Group, is using the concept to assess whether her group's work is aligned with the company's needs. "I block time to strategize with my team now," she noted. "I seek to build and maintain alignment between strategy and execution. Quarterly, I review two questions with them: What are we doing that we shouldn't be doing? What aren't we doing that we should be doing?"
Leading with Self-Awareness
While strategy is essential to a company's success, self-awareness and emotional intelligence are critical to a leader's. The LSI program includes both self-work—helping participants understand their strengths, growth areas, and management styles—and lessons in how to lead and communicate with teams that have diverse personalities and approaches.
"Our participants grow to understand that their work and professional lives are interconnected, to have a deeper understanding of their leadership styles, to find ways to work better in teams, and to see what their personal responsibility is as a leader," explained Argenti.
For Green, who came to LSI early in her role as a director, this work was illuminating. "I began to see my colleagues differently and was able to recognize more quickly and more specifically the strengths that my teammates bring to the table," she said. "I was also, for the first time, able to see the negative side of consensus building in my own old leadership patterns—and to focus on breaking an unhealthy cycle of building consensus after I made small decisions."
Likewise, Jerrard left LSI with new confidence. "For me, it involved getting outside of my comfort zone and learning that as a leader, it's okay to be uncomfortable and to flex that muscle." She also learned that different employees thrive under different types of leadership. "I've been applying the directive leadership style for new team members who may need more guidance and the visionary or coaching style with more experienced employees. That was a pretty big shift for me, and now I notice it in other leaders and how they interact."
For all three participants, one message was clear—the learning has only just begun. "I learned that becoming an effective leader is an evolutionary process," said Punda. "I now seek the advice and feedback of others to allow myself the opportunity to further refine my leadership skills."
The good news for these participants? Tuck's doors are always open, and there's no need to rush.
"Our advice is always to try to change just one thing, then move on to the next, and the next, and the next," explained Argenti. "We also want them to stay in touch with us, to continue to ask questions and get advice, to be a part of our community."