By Betsy Vereckey
04 April 2019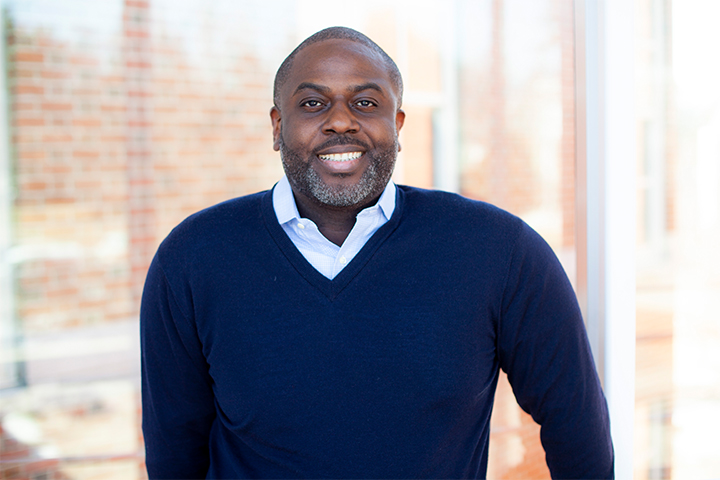 To better the world of business, diverse inclusion is essential. At Tuck, diverse entrepreneurs are given opportunities to hone their business strategies, develop their skillsets, and build high-performing enterprises.
In his new role as associate director for Tuck's Diversity Business Programs, Emmanuel Ajavon will help spearhead these efforts at Tuck, an institution he says has "always been at the forefront" of developing high-caliber business programs for diverse entreprenuers. Tuck was the first U.S. higher education institution to offer executive programs for underserved entrepreneurs and executives.
Ajavon began his new position in March, serving as a vital leader in creating opportunities for diverse entrepreneurs. He has been envisioning ways to strengthen Tuck's offerings and plans to focus a good portion of his time on ensuring that more participants are included in these best-in-class programs.
"My goals are focused on sustaining strong partnerships with our existing corporate sponsors and creating growth opportunities for minority-owned businesses to experience what our programs can do for them" Ajavon says.
To this effort, Ajavon will also be working on a rebrand of the program, recently renamed Tuck Diversity Business Programs. Notes Ajavon, "This change in name incorporates the word diversity to effectively capture inclusion of all the incredible entrepreneurs and companies who will be taking advantage of our programs, including leaders from women-owned and disability-owned enterprises."
Tuck's executive education programs attract a range of bright, successful owners and offer something for diverse entrepreneurs at all levels. No matter what industry they work in, attendees come away feeling energized with ideas on how to move their businesses forward.
"The diverse entrepreneurs who attend our programs are already doing well, and they are committed to learning how to improve their organizations," Ajavon says. "Whether it be navigating their business in this complex digital world, having a better understanding of financial performance metrics, or taking their company's strategy to the next level—all of the programs we offer have proven real-world application that can help minority entrepreneurs grow and develop their business. I truly believe that having more successful diverse businesses is vital to the economic growth of all communities."
Prior to arriving at Tuck, Ajavon expanded business opportunities by building partnerships with companies and colleges across northern New England. He also helped bring in several new grants to fund and bring awareness to the programs he managed. He is currently pursuing a master's degree in leadership at Norwich University and is a native of Brooklyn, N.Y.
For more information on our offerings for minority entrepreneurs, please visit Tuck Diversity Business Programs.