By Kristin Maffei
08 March 2022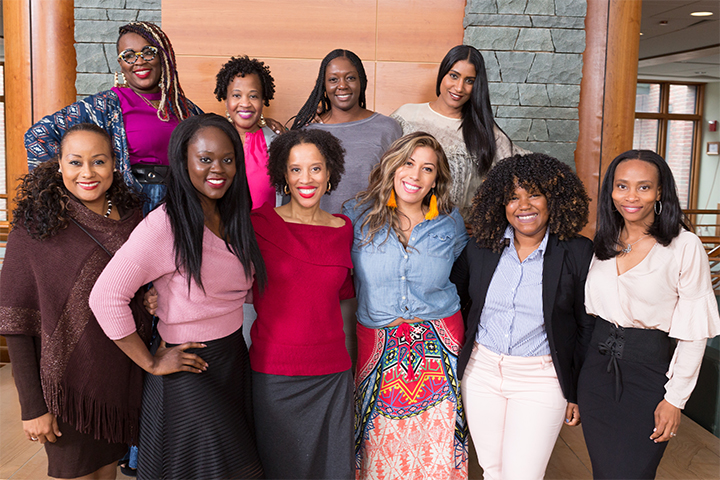 SheaMoisture, the leading multi-cultural beauty and personal care brand has renewed its partnership with Tuck Diversity Business Programs for its seventh year. SheaMoisture and the Tuck School of Business at Dartmouth is excited to once again offer the SheaMoisture Community Commerce Fellowship for minority women entrepreneurs.
Through this fellowship, candidates will be fully funded to attend Building a Successful Diverse Business, which helps owners of diverse businesses sharpen their business strategy. Participants work with Tuck's senior faculty to market to the right customers and showcase their value; explore financial statements to increase profits; motivate and retain their best employees; and hone their approach to leadership.
The program takes place at the Tuck School of Business campus in Hanover, NH, from April 24 to 29, 2022. The fellowship covers tuition, materials, accommodation, and most meals, and includes a reimbursement of up to $1,000 for the cost of land or air travel.
Since the first fellowship was established in 2015, dozens of Community Commerce Fellows have participated, ranging in fields from apparel manufacturing to tech and beauty, and all own companies that have a social impact mission.
How to Apply
Priority consideration for the SheaMoisture Community Commerce Fellowship will be given to applicants who are able to demonstrate that their companies actively support social objectives as a core part of their missions and/or business models. Applicants should be women-identified owners and senior executives of minority-owned companies in the beauty business, with a minimum of two years of experience running their business and at least $25,000 in annual sales.
Applications will be accepted until March 18th, 2022, closing at 11:59pm EST. Applicants who are interested in being considered for the SheaMoisture Community Commerce Fellowship, must:
• Complete the online application for Building a Successful Diverse Business
• Check the box that says "I Am Applying for a SheaMoisture Fellowship"
• Respond in full to the next question about social impact mission
About the Tuck Diversity Business Programs
The Tuck School was the first U.S. institution of higher education to offer executive programs dedicated to advancing the capabilities of underserved entrepreneurs and executives. Since setting the standard in 1980, Tuck continuously has honed its program, expanding and refining what is covered to create the maximum impact on the businesses of its attendees. For more information, please visit the Tuck Diversity Business Programs website.
About SheaMoisture
SheaMoisture is committed to serving those who have been underserved. Shea butter is one of the brand's core ingredients, praised for its hydrating and nourishing properties. As part of their Community Commerce business model, SheaMoisture partners with women-led co-ops in Northern Ghana to source their namesake Shea butter. With the core belief that commerce can bring true economic independence and empower women to break cycles of poverty, the brand further reinvests into both the co-ops and the communities it serves throughout the U.S. SheaMoisture continues to create economic opportunities for women and other minority entrepreneurs in its ecosystem with engaging events, investment funds and educational programs. SheaMoisture is a global beauty leader in the hair care, bath, body, skin care, baby, and men's categories, and is distributed in retailers throughout the world. SheaMoisture is a subsidiary of Unilever.