By Betsy Vereckey
18 December 2019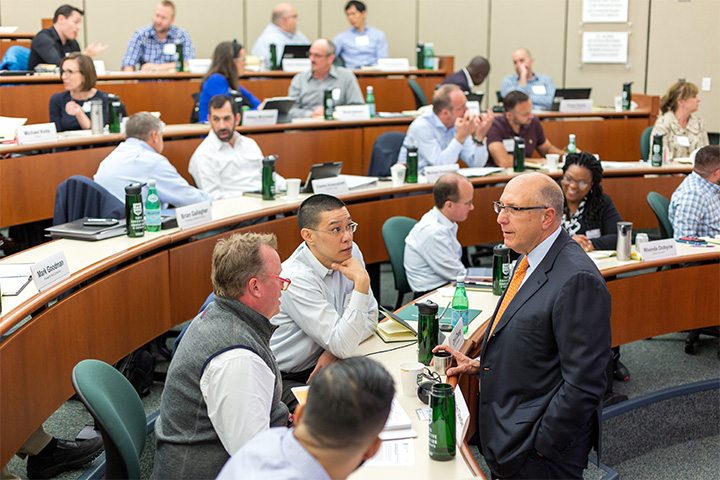 For Dartmouth alumni who enroll in a Tuck Executive Education program, coming home to Hanover to advance their learning provides the same comprehensive, transformative educational experience in an intimate setting that all participants experience. And it also gives them the rare chance to experience the same campus where they enjoyed some of their most formative experiences as young Dartmouth students.
Michael Kolis D'87 was pleasantly surprised when he opened his copy of the Dartmouth Alumni Magazine and saw that Tuck offered Leadership and Strategic Impact, a one-week program designed for executives who want to maximize their leadership effectiveness and strategic communication abilities.
"I thought it was a remarkable coincidence," said Kolis, who works at a global energy company as managing counsel in charge of the company's downstream and midstream litigation. Part of the reason Kolis was interested in coming to Tuck was because of the amount of change happening now at his workplace and in the energy business.
"As the energy industry faces its future, we are challenged to be better leaders," said Kolis, to help steer the company through change. When it came to where to enhance his leadership skills, he jumped at the chance to return to Hanover.
"It's one of those places that feels like home," Kolis said. "Returning to Hanover made the program so much better. I took walks around campus and went to my old dorm. It felt like a reunion without the actual reunion."
Another Leadership and Strategic Impact participant, Chris Powers D'94, also revisited fond memories when he came back to Hanover to continue to hone his leadership skills after his position changed at his company. Powers now runs the East Coast operations for Risk Strategies' employee benefits practice. The company is an insurance brokerage and consulting firm headquartered in Boston, with more than 70 locations in the U.S.
"It was really fun to be back on campus," Powers said. "The days were long, but when we had free time, I got out and went for a run in the morning, and at night, I went to Murphy's and had a burger and a beer. It was really nice to be back."
It was also an easy decision to come back to Hanover for Patrick Taylor D'95, who now lives in London. Taylor was looking to do a "full reset of his brain" as he transitioned into his new role as the chief operating officer of Salesforce's partner ecosystem across Europe, the Middle East, Asia, and Latin America. Taylor said the Tuck Advanced Management Program was helpful because it got him to step outside of his work routine and start thinking about the big picture.
"It's easy to get consumed in day-to-day operations and challenges, so it's very important to step outside of that realm and evaluate the big picture of strategy and where one is leading the company and team," said Taylor, who has worked for Salesforce for 13 years.
Having gone to Dartmouth, Taylor knew that Tuck's program would be excellent, but one thing he hadn't realized was how much it would help to learn from the perspective of a diverse group of talented individuals from different industries and geographies.
"I didn't expect this going in, but there was a great benefit to working with people outside my industry," Taylor said. "When the topics are leadership, difficult decisions, and interpersonal relationships, the industry doesn't matter. The fact that we had high-quality individuals in the room made for a great two weeks."
A similar sentiment was echoed by Kolis, who appreciated how diverse his study group was, with participants coming from sectors as varied as education, financial services, the military, technology, and more. "I was in a group with people from different industries and different countries, and all those experiences were brought to bear each time we met and learned from one another," he said.
All three alumni were inspired by Tuck faculty, such as Paul Argenti, who leads sessions on strategic communication in both Leadership and Strategic Impact and the Advanced Management Program. "Anything that Paul Argenti did was top notch," Powers said.
The incredible story-telling from former New Hampshire Governor Lynch, who teaches in the Advanced Management Program and serves as a clinical professor at Tuck, also resonated with participants, as did lessons from Professor Ella Bell Smith, who led a workshop during Leadership and Strategic Impact about the importance of being your true self in the workplace.
"Her message was different from what we tend to hear about how to lead, that you should just be professional," Kolis said. "She turned all that on its head and encouraged us to lead with our hearts and be who we are."
Taylor was also inspired by Dean Matthew Slaughter, who teaches global economics in the Advanced Management Program and said that self-reflection is essential to building strong leaders. "Dean Slaughter's gift was the compelling suggestion of creating a routine of daily reflection, which I practice and which has made a difference in my life," Taylor said.
Even though their programs have ended, participants regularly reflect on the learnings from their time at Tuck. All say they often rely on the frameworks they learned and use them daily. Powers said he looks at his notes in his journal at least once a week, while Kolis said that one of the most important things he learned in the program was the value of reflection.
"To take a complete time out from work, to go sit in a class with smart people and smart professors and do something for yourself—that's enriching, especially when you get to return to Dartmouth to do it," said Kolis.
Back in London now, Taylor said he couldn't agree more. "Dartmouth and Hanover will always be magical in my mind."