By Lydia Herndon
12 December 2019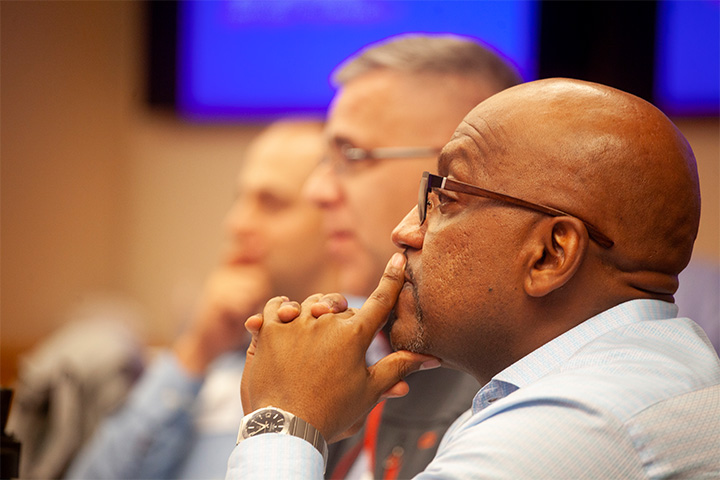 This year, Tuck Executive Education provided more than 20 programs online, on campus in Hanover, NH, and around the world. Each program was customized to the learning goals of a diverse spectrum of participants and companies, but one element remains constant throughout: reflection.
Kevin Lane Keller, senior associate dean for innovation and growth, explains the defining role that reflection plays in these programs: "Tuck Executive Education prides itself on the rigor and relevance of its programs. Another distinguishing feature of our programs is reflection. Our idyllic New England setting and thought-provoking content combine to stimulate deep reflection and creative inspiration."
Tuck Executive Education programs create dedicated space for reflection, but the need for contemplation and self-assessment is critical year-round. Several Tuck professors who teach in Executive Education programs share reasons to make time for reflection:
1.It enhances your life.
"Imagine a daily supplement that will help you be more effective at work, and will even make you feel better about yourself. That is what reflection is. And it's free."
—Sydney Finkelstein, Steven Roth Professor of Management
2.It is essential for growth.
"Reflection forces executives to make sense of what they observe and explore how they can apply the learnings from those experiences for their own businesses and in their personal lives. Reflection is critical for experience-based learning."
—Vijay Govindarajan, Coxe Distinguished Professor of Management and faculty director, Global Leadership: Discover and Create the Future
3.It drives success.
"Awareness is the foundation of successful management, which requires its leaders to be deeply attuned to the world around them. Reflection is the practice by which we cultivate and maintain awareness."
—Emily Blanchard, associate professor of business administration
4.It spurs gratitude.
"I don't think any of us spend as much time as we should reflecting on a particular event, or a particular period of the year. As this year comes to a close, we should all reflect on the year behind us and on how lucky we are to be a part of the Tuck community."
—Paul Argenti, professor of corporate communication and faculty director, Leadership and Strategic Impact