By Belinda H.Y. Chiu
27 October 2022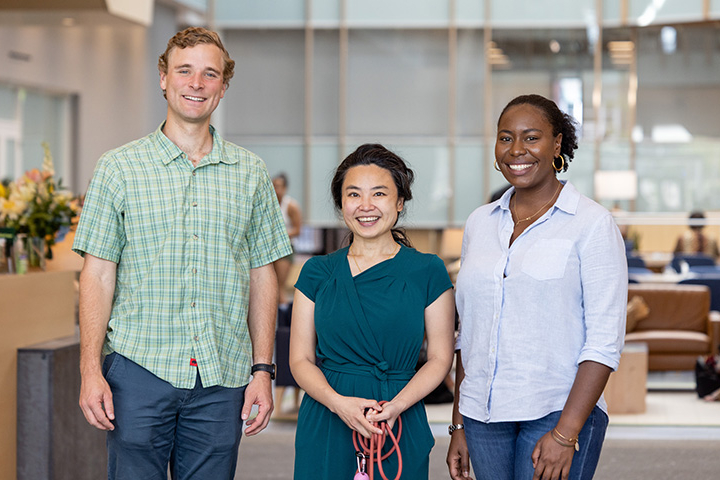 Leaders who lead with centeredness have greater choice in what and how they focus their attention and approach constant change with a sense of intentional play and expansive thinking. Leaders who lead with courage have clarity of integrity and welcome honesty and conflict. They lead with the Compassion Strategy, which includes:
Centeredness: intentional focus + purposeful play + active agency;
Courage: authentic integrity + healthy conflict + compassionate candor; and
Curiosity: shared connection + improvisational paradox.
In our current and future states of being, leaders must have an external focus beyond themselves to connect within and across self-interests, silos, and systems. In fact, PwC's Global Crisis Survey 2021 found that leaders who recognize that "resilience can make the difference between faltering or flourishing" prepared integrated crisis response plans that cut across silos to more nimbly navigate, stabilize, and grow from disruption. A 2021 SAS study showed that 72% see curiosity as a valuable trait, and LinkedIn reported an over-90% growth in job postings with the trait listed. Those who cultivate curiosity understand the need for shared connection, as well as innovate, improvise, and invite paradox.
First is shared connection. Curiosity requires leaders to lead teams, a collection of individuals, not to be the lone superhero. During stable and shaky times, leaders need to constantly pay attention to the whole and to the parts. To proactively and effectively strategize for the future, leaders must truly understand the perspectives of their employees, internal stakeholders, and external clients on a human-to-human level, an approach irreplaceable by automation. They must build relationships across matrixed organizations and industries. Particularly during a time of heightened awareness of the damage that exclusionary and discriminatory behavior can have on individual wellbeing and organizational health, creating climates of inclusion and belonging requires more than a few book clubs and workshops. It requires a shift from judgement to discernment, from bias to bridging. Leaders who embrace curiosity understand that accountability without shaming, understanding without condoning, and acknowledging without agreeing are key components for healthy connections with stakeholders. Rather than a deficit-based, you-are-wrong approach, recognizing one's mindset to engage with others is essential to create psychological safety. To feel safe, humans have two basic needs – to feel like they belong and to feel they are seen for who they are.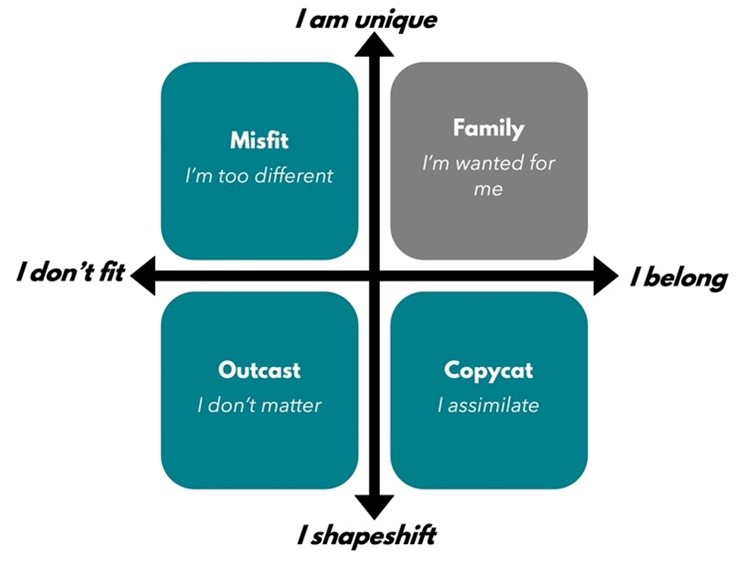 Figure 1: Shared Connection

When it comes to connection, humans have basic needs that can be seen on two dimensions: 1) how much we feel we are wanted (I belong) or not (I don't fit); and 2) how much we feel our true selves (I am unique) or masked selves (I shapeshift) are valued. Simply not being exclusive does not make one inclusive. Leaders must be mindful whether they might be conflating belonging with belonging-on-the-condition (assimilation) or creating divisions by celebrating differences without shared identity. Leaders who celebrate togetherness because of individual differences create human connection demonstrate the courage to embrace the spectrum of human experiences.
Second is improvisational paradox. Being able to hold the duality of difference and belonging may seem contradictory. But they're not. As humans, we don't like cognitive dissonance where two apparently contradicting facts appear to be true. Yet the older we get, the more we get locked into binary thinking. As Vip Vyas notes, however, leaders must embrace complexity. Human-centered leaders are more able to embrace paradoxes and master, as Adam Grant and Kevin Sharer call it, the "inner game." This includes having confidence and humility; urgency and patience; optimistism and realistism; freedom and structure.
Leading with curiosity amplifies the capacity to embrace the paradoxical system of today's leadership. PwC's Blair Sheppard argues that leaders should specifically embrace a system of six paradoxes: globally-minded localist; high-integrity politician; humble hero; strategic executor; tech-savvy humanist; and traditional innovator. To do so, a leader must develop comfort with internal and external conflict and lean into what's working and what's not to move towards resolution. Companies such as Toyota and the makers of Gore-Tex have long used an organizational paradox mindset to sustain continued innovation. This paradox mindset requires an appreciation and awe for intradependence. After all, how else would pesky burrs found on socks become the inspiration for Velcro?
After all, innovation rarely comes in a lightning-bolt moment. They can happen every day if leaders are aware of how to nurture a robust environment for idea generation. McKinsey challenged leaders to consider that "the answer isn't to modify the old models but to replace them with something radically better." They portend nine organizational imperatives that leaders of future-ready organizations must address: purpose, value, culture, flattened structure, faster/wiser decisions, talent-focus, ecosystem view, data-rich, learning. To do so, a perpetual open state of curiosity is needed.
One way to build this perpetual state and robust conditions for paradoxical mindsets is to practice awe. Berkeley psychologist Dacher Kelter researches how important awe is to innovations that contribute to society at large. Awe includes having a sense of humility and heightened awareness. We know when we experience it – often in the presence of the outdoors or in the presence of inspiring individuals. Practices of awe cultivates creativity, boosts healthy brain activity, and reduces stress. Leaders who bring this mindset recognize that their strategic decisions and actions are not made in an ecosystem that encompasses all.
Another way to practice curiosity is to embrace what Robert Quinn calls the four fundamental states of leadership, whereby leaders are "forced to improvise in response to previously unrecognized cues." It requires leaders to create something out of seemingly nothing. With uncertainty, leaders need to depart from the status quo. Just as the talented folks of Chicago's famed Second City, the most effective leaders are skilled improvisers. They also are open to holding multiple truths to create and initiate innovation and iteration.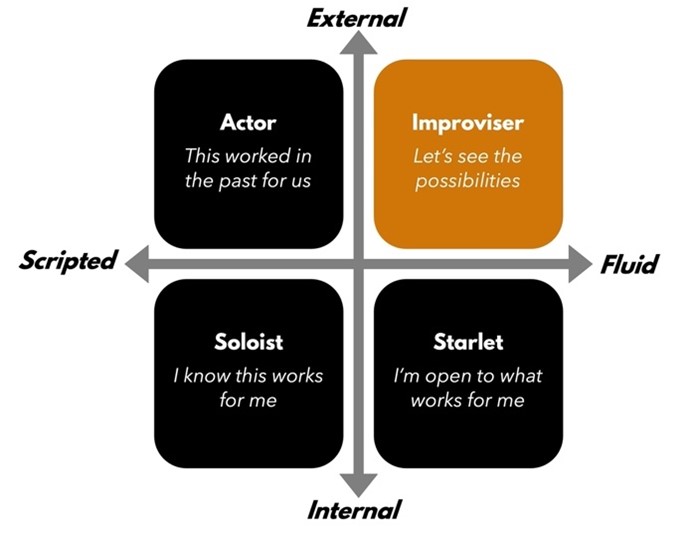 Figure 2: Improvisational Paradox
Improvisational paradox can be seen across two dimensions: 1) how open (fluid) or closed (scripted) they are to meet the unexpected and the contradictory; and 2) how focused they are to what's happening beyond their immediate bubbles (external) or not (internal). Without embracing improvisational paradox, leaders may be highly effective robots sticking to a script, a figurehead without a team, or an ego-focused Big Head. When leaders are open to the unexpected and focused on others, they see and build on previously unseen possibilities.
To explore curiosity, some questions to investigate include:
How might I build a climate to shift from the transactional to the relational?
How can I innovate while holding two contradicting [people, facts, things] to be true?
What happens if I ask, 'why not'?
Curiosity enables leaders to cultivate a deep awe and appreciation for the entirety of a system that their decisions impact. Together with centeredness and courage, the three dimensions of the Compassion Strategy enable leaders to strategize with the "Three-Box Solution" and to rebuild an ecosystem that is generative for all to flourish.
As Head of Development for Dream Unlimited Corp. Tsering Yangki says, "Leading with compassion allows you to proactively assess the triple helix – risk system for all to flourish. return, and impact –internally and externally and to create opportunities from adversity or disruptive change."
To lead strategically in an interdependent system is to lead with wisdom and compassion.