By Carolyn Clinton
04 May 2014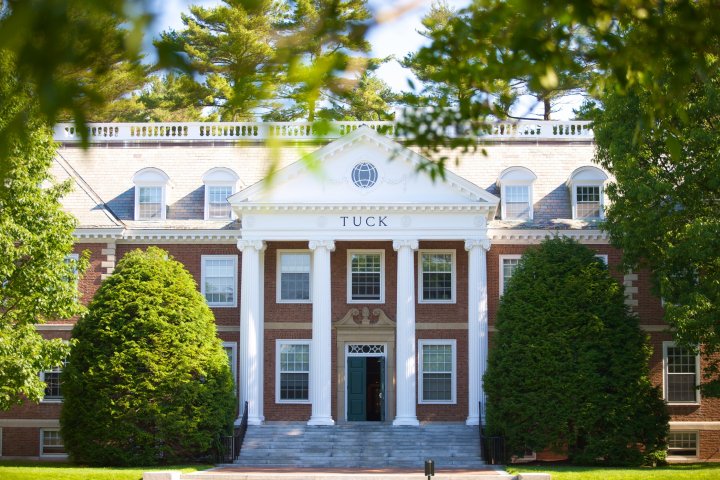 In our executive education programs, the emphasis is on learning and generating implementable ideas—specific actions participants can take as soon as they return to the office. So our program designs include elements that drive toward application, change, and impact. This blog post talks about some of the steps we take.
We give participants blank journals to fill with their insights and reflections during and after the program. Tuck's Associate Dean for Executive Education Sydney Finkelstein calls the journal the most important management text they will ever own. Because they have written it themselves, it is highly personalized and relevant to the leadership challenges they face. Months and years later, when Professor Finkelstein does follow-up visits to client companies, he is amazed to see many of those journals still in use.
We also create time in our program schedules for participants to reflect on their own, with a partner, and with the larger group. Given the intensity of the program immersion experience, it is important to remind participants to reflect on what they are learning, and how they will apply it back on the job. Sharing with others in their cohort is a public affirmation of their commitment to use what they learn to create both personal and organizational impact.
Post-program follow-up that includes a "letter to self" or "I will" statements that the participants created during the program reminds them of their commitments and prompts them to reflect on their progress. Web-based follow-up providing regular reminders of post-program goals and a way to share progress with the rest of their learning cohort is particularly effective in driving impact.
Tuck also fosters application through guided learning on developing a leadership point of view. In Global Leadership—a Tuck consortium program attended by teams of high potential executives from top global corporations—the participants actively explore the idea that great leaders are great teachers and they begin to craft and refine a personal leadership point of view. These narratives articulate a case for change, an idea that supports where the organization is headed, and a plan to realize that idea. The participants connect these stories with their own leadership journey—with the professional and personal experiences that have shaped their path to being in the program that day. They link ideas for change that they can imagine achieving with selected frameworks and tools they are learning in the program.
Post-program coaching is another powerful methodology Tuck uses to keep participants focused on what they have committed to do and help them work through challenges they encounter. Tuck successfully uses a variety of approaches—peer coaching, expert coaching, and coaching by learning and development staff inside client companies.
We make extensive use of a peer coaching model, based on research findings that peer coaching can be as effective as traditional coaching models. For open-enrollment programs with participants from many different companies, the executives are given guidance and training by faculty during the program to prepare them to help each other interpret their 360° results. They discuss their feedback and create personal action plans in peer coaching sessions, also under the guidance of faculty. Participants stay in touch with their network of new business contacts after the program concludes—for example, groups from the two-week Tuck Advanced Management Program have continued to regularly meet via conference call.
In Tuck's custom practice, the Thomson Reuters Global Executive Programfeatured peer coaching groups of three to four members put together by senior human resources leaders based on knowledge of the participants, their experience inside the organization, and their development needs. Prior to the start of the two-module program, participants were asked to create leadership development goals around two questions: "What will you do to grow the business?" and "What will you do to grow yourself and your team?" Their managers were briefed on the program before the first module and met with participants before and after each module to discuss their goals and how the concepts and frameworks they were learning would support their action plans. During the program, the peer coaching groups did experiential learning exercises together and set up a schedule for virtual follow-up meetings for on-going advice, support, and discussion of their business and leadership challenges and successes. The coach/facilitator who worked with the group during the program continued to monitor their activity and regularly joined the peer coaching conference calls.
We believe all these approaches have helped Tuck effectively foster application of learning back on the job. Especially when combined, they can markedly improve program effectiveness and impact.