By Kristin Maffei
16 June 2020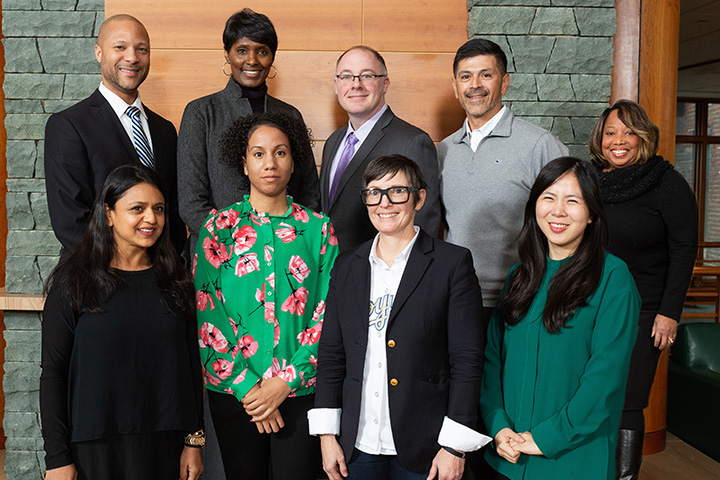 For over a decade, Wells Fargo and Tuck Executive Education at Dartmouth have worked together to provide equitable opportunities for diverse-owned businesses to grow and scale. It's critical, now more than ever, that we find ways of working together to ensure that diverse business owners have the access to education and networks that will yield opportunities for success, which is why Wells Fargo and Tuck today announced the Wells Fargo Scholarship Fund for Diverse Businesses.
"These are trying times across our country as we deal with racial injustice and the COVID-19 pandemic," stated Regina Heyward, senior vice president and head of supplier diversity for Wells Fargo. "We know that there is power in working together as we address present needs and look toward the new realities of doing business. Wells Fargo is proud to continue our work with the Tuck Diversity Business Programs to give diverse-owned businesses access to the resources to retool, restore, and recover. We want diverse-owned businesses to know that we believe in them, and that we are stepping up to help."
The $100,000 Wells Fargo Scholarship Fund program creates 24 scholarships for Tuck Diversity Business Programs, so that certified minority, women, veteran, LGBTQIA, and disabled entrepreneurs will be able to attend one of Tuck's programs. Wells Fargo scholarships can be used for participants to attend either Building a Successful Diverse Business or Growing an Established Diverse Business.
Tuck's Diversity Business Program started in 1980 and is the country's oldest program designed to develop diverse business owners at a graduate business school. Since its inception, thousands of business owners have participated in the programs. Wells Fargo has been funding scholarships for Tuck Diversity Business Programs for over a decade.
"The Tuck Diversity Business Programs team is very excited about our relationship with Wells Fargo, since it allows us to bring our curriculum, faculty, and 40 years of experience developing diverse businesses to even more entrepreneurs from diverse communities from across the country," said Emmanuel Ajavon, associate director of Tuck Diversity Business Programs.
As part of its COVID-19 response to date, Wells Fargo has provided more than 300 grants to organizations serving small businesses.
How to Apply
Priority consideration for a Wells Fargo scholarship will go to current Wells Fargo diverse suppliers, and diverse business owners who sell goods and services that have the potential to become Wells Fargo suppliers.
Applicants to Building a Successful Diverse Business should have a minimum of three years of experience running a business and at least $250,000 in annual sales. Applicants to Growing an Established Diverse Business should have already attended Building a Successful Diverse Business or be able to demonstrate comparable experience and education.
Applicants who are interested in being considered for a Wells Fargo scholarship must complete the online application and enter "Wells Fargo Applicant" under "Sponsor Company (if applicable)."
About Wells Fargo
Wells Fargo & Company (NYSE: WFC) is a diversified, community-based financial services company with $1.98 trillion in assets. Wells Fargo's vision is to satisfy our customers' financial needs and help them succeed financially. Founded in 1852 and headquartered in San Francisco, Wells Fargo provides banking, investment and mortgage products and services, as well as consumer and commercial finance, through 7,400 locations, more than 13,000 ATMs, the internet (wellsfargo.com) and mobile banking, and has offices in 31 countries and territories to support customers who conduct business in the global economy. With approximately 263,000 team members, Wells Fargo serves one in three households in the United States. Wells Fargo & Company was ranked No. 29 on Fortune's 2019 rankings of America's largest corporations. News, insights, and perspectives from Wells Fargo are also available at Wells Fargo Stories.
About Tuck Diversity Business Programs
The Tuck School of Business at Dartmouth was the first U.S. institution of higher education to offer executive programs dedicated to advancing the capabilities of underserved entrepreneurs and executives. Since setting the standard in 1980, Tuck has continuously honed its program, expanding and refining what is covered to create the maximum impact on the businesses of its attendees. For more information, please visit the Tuck DBP website.