By Betsy Vereckey
06 September 2019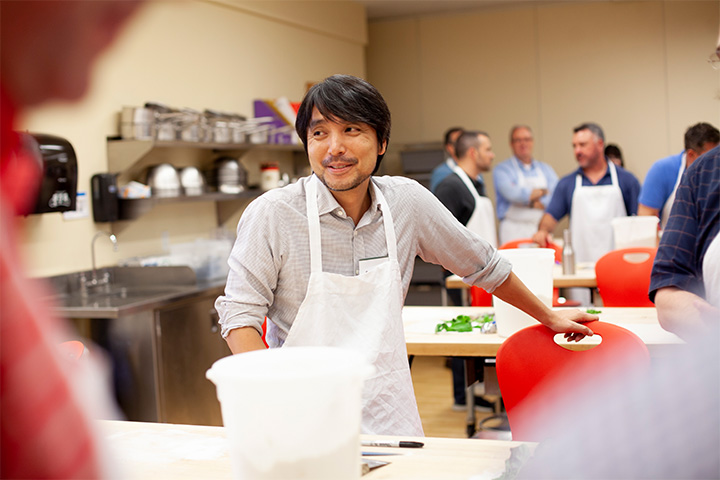 When Hiro Yoshida and Sam Miyajima arrived at Tuck's Advanced Management Program (AMP) in July, they had similar goals. Yoshida, a senior vice president of planning and coordination with the Development Bank of Japan Inc., and Miyajima, a manager in Itochu Corp.'s crude oil and petroleum product trading department, were both looking for insight on innovation and strategy from leaders in the field, in an environment that offers rich opportunities for reflection and rejuvenation.
Designed for senior leaders, the two-week immersive experience on Dartmouth's campus in Hanover, NH, is taught by Tuck's renowned faculty thought-leaders. Those who attend the program walk away with a robust framework for business success, gaining new tools in strategy, management, and communication.
"Those who come to the AMP program are successful leaders who come from different industries and different countries," said Kevin Lane Keller, the Senior Associate Dean for Innovation and Growth at Tuck and faculty advisor of AMP. "The richness that we get from the different backgrounds in the program is something I think everyone really appreciates."
AMP attendees study with Tuck professors who are widely considered to be leaders in their fields, such as Emily Blanchard, an economist whose research looks at the implications of globalization; Brian Tomlin, an expert in global supply chain management; and Sydney Finkelstein, whose research centers on the world's best bosses and also hosts a popular podcast.
"The AMP faculty are an amazing bunch," Keller said. "They have been successful across a wide range of business disciplines. Many of them have written best-selling books and helped the world's most successful companies solve their biggest challenges."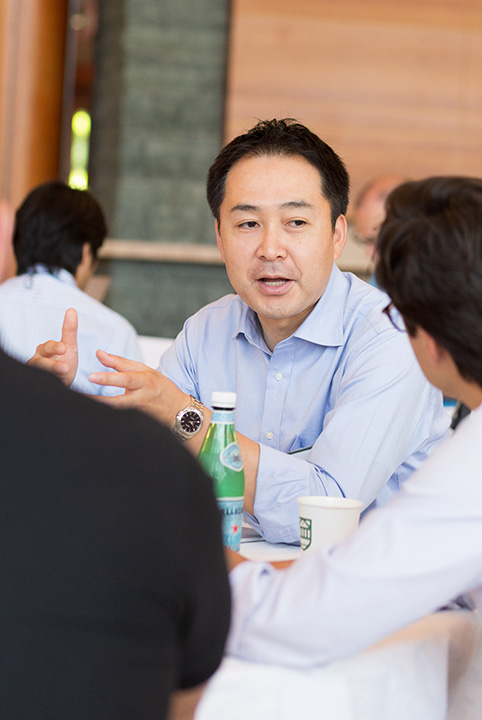 As soon as Yoshida and Miyajima heard about the three-box solution in a session taught by Vijay Govindarajan, they started applying it to their work immediately. The three-box solution is a helpful framework that teaches executives how to simultaneously manage the present while creating the future. This detailed instruction on the distinctive skills needed to account for the past, present, and future has been helpful to Yoshida, who has been planning and executing on his company's midterm management plan. It was also very useful to Miyajima, who has been helping his company create a new strategy that moves away from a high-risk, high-return business model and toward one that is less risky and more stable.
In addition, Miyajima enjoyed a session on creating a one-company culture taught by Paul Argenti, which taught participating executives the importance of messaging and employee engagement, ideas that were incredibly relevant to Miyajima.
"When I returned to Tokyo after the program, I shared with my team members many of the ideas that I learned, and we discussed how to incorporate them to effectively solve our business challenges," he said.
During their time in Hanover, both Yoshida and Miyajima made the most of everything the quintessential Ivy League town offers. On breezy summer days, Yoshida went hiking and kayaking down the Connecticut River and found that being in nature was a great way to reflect on the material. Miyajima spent his evenings jogging and biking around town.
The program also takes full advantage of Tuck's Upper Valley location, with evening field visits to local organizations. At Dartmouth's Hood Museum of Art, Yoshida and Miyajima participated in a program on "Learning to Look," which brought together techniques for interpreting art and a five-step process for addressing business challenges. The next day, they made pizza with their classmates at King Arthur Flour, a bakery in Norwich, VT, that produces and sells flour and other baking supplies. The experience also provided fodder for discussion—participating executives met one of the employee-owned company's three CEOs and gained insights into building a world-class brand.
Unique among executive education programs, AMP provides rigorous, relevant education to leaders who "want to get to the next level," said Keller. "Whether it's marketing, operations, strategy, or leadership, the goal is to share with students the latest and greatest thinking across a number of different disciplines, so that they can apply it to their particular situation and organization."