By Kristin Maffei
14 October 2020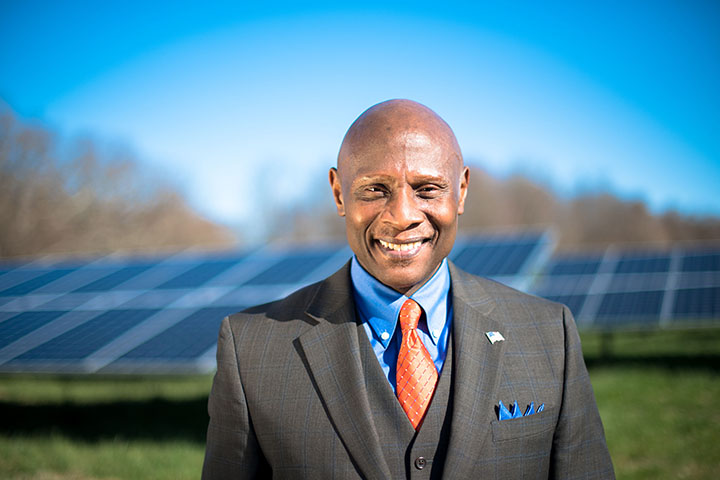 Bob Wallace T'84, a Baltimore-based entrepreneur and engineer, is one of Tuck's many proud alumni who are giving back to their community through public service. He is now running for mayor to make his beloved Baltimore a better place to live and work.
During his time at Tuck, Wallace was a champion for increasing diversity on campus and conducted research that was instrumental to the creation of the Tuck Diversity Business Programs, which are currently celebrating their 40th anniversary. After founding his own business in 1995, he even came back for the programs as an entrepreneur himself, attending Building a Successful Diverse Business in 1998 and Growing an Established Diverse Business in 2001.
Since his upbringing in the housing projects of Cherry Hill, Wallace has long been a tireless advocate for equal access to higher education, jobs, and opportunities for people of all backgrounds. Growing up, Wallace saw firsthand the corruption, violence, and crime that plagued his city. His family experienced the detrimental effects of poverty, addiction and violence that so many in Baltimore continue to face every day.
"Growing up in Cherry Hill at times felt hopeless," Wallace said. "I was lucky to have guidance and support through my school and church. This guidance helped me work toward positive change and a promising future. I want to share that same support by creating educational and economic opportunities for all Baltimoreans."
With historically high rates of crime and violence, along with the economic crisis brought on by the coronavirus pandemic, many have questioned Wallace's decision to run for mayor, claiming that Baltimore is a hopeless situation.
"Growing up in one of Baltimore's many ignored and underserved neighborhoods, my family instilled in me the powerful lesson of having hope in what seemed a hopeless situation as we struggled to make ends meet," Wallace said. "My parents taught me the lesson of hard work and the power of education in helping to reach your dreams of a better future. I want to help provide those same opportunities to all of Baltimore's residents in every neighborhood as they continue to struggle today with a widening gap in the lack of opportunity and resources."
Wallace hopes to use his experience as an accomplished, visionary leader to bring transparency, accountability, and economic expansion to Baltimore at a critical time. He has a vision and plan to bring 100,000 new jobs and $1 billion of investment to Baltimore during his first term to help create new opportunities for city residents.
His 40 years of experience in the private sector, working with industry leaders like IBM, DuPont and Procter & Gamble, has made him an expert on economic development, strategic partnerships, emerging markets and entrepreneurship.
As the founder of three Baltimore-based companies – BITHGROUP Technologies Inc., Bithenergy Inc., and EntreTeach Learning Systems – he has built numerous businesses from the ground up, with a successful history of creating hundreds of jobs to help lift people up in their communities. As mayor, he plans to support big, small, minority-owned and women-owned businesses alike, making Baltimore a safe city where middle class families can live, work and thrive economically.
Like many Tuck Diversity Business Programs participants, Wallace uses his personal rags-to-riches journey to help others overcome social and economic obstacles and find a pathway to success. Starting next year, he hopes to do so as mayor of Baltimore.