By Kristin Maffei
11 August 2020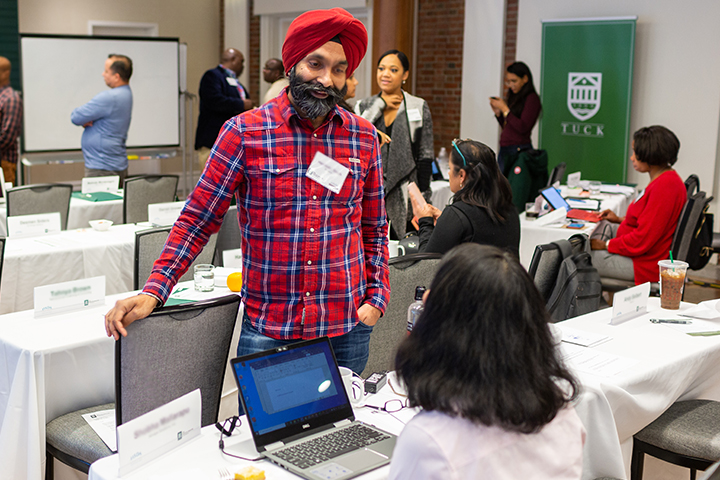 Tuck Executive Education is excited to announce that we will be offering the fall 2020 session of Building a Successful Diverse Business as a virtual experience to take place November 9 – 20.
"The frameworks taught in Building a Successful Diverse Business focus on key areas that entrepreneurs need to master for success, including strategy, financial analysis, and management," says Len Greenhalgh, faculty director. "These abilities are essential for leaders during this period of unprecedented challenge and transformation. Now more than ever, this content will be pertinent and actionable for our participants and their businesses."
Throughout Building a Successful Diverse Business, faculty will use innovative session designs and technologies to make this a high impact and engaging online learning experience for business owners. The Tuck Diversity Business Programs faculty are adept at bringing classroom discussions to life in a distance-learning environment and creating experiences that are personal, connected, and transformative.
Tuck's digital capabilities include live Zoom sessions with faculty thought-leaders, small group work, and asynchronous content such as videos, readings, podcasts, and interactive discussion boards. To accommodate the changing needs of today's entrepreneurs in this unprecedented time, the program will also be taught over two weeks, with live sessions taking place on Mondays, Wednesdays, and Fridays. This updated schedule will allow participants time to reflect and put their learnings into action each day.
Now more than ever, Building a Successful Diverse Business's content will be relevant and applicable for participants, their teams, and their businesses. For entrepreneurs who are ready to grow and meet today's unique opportunities, there's no better time to apply than today.
Applications for Building a Successful Diverse Business are due on October 12, 2020.