By Betsy Vereckey
03 August 2020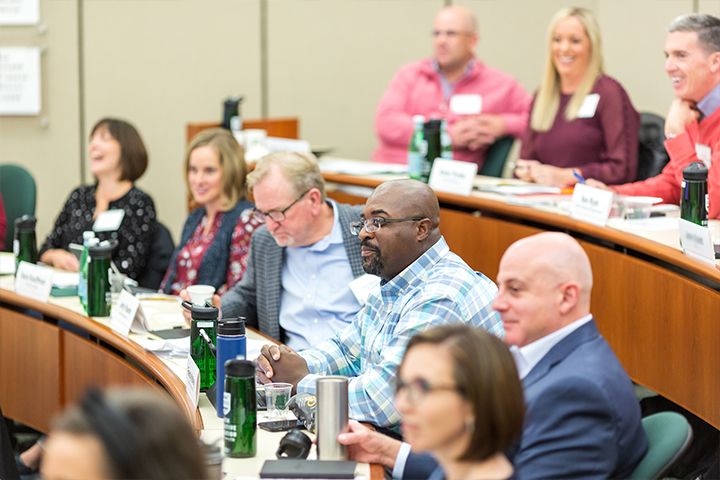 Tuck Executive Education program participants come from a variety of industries and geographies to cultivate advanced business skills, network with peers, and learn from faculty thought leaders in a personalized, intimate setting.
The benefits of Tuck programs also extend far beyond individuals; they have tremendous impact for companies, too. At the end of Leadership and Strategic Impact or the Tuck Advanced Management Program, participants return to their organization with newly acquired insights and action plans, ready to immediately implement what they've learned.
Due to the global COVID-19 pandemic, many organizations are at a key point in their histories. The frameworks taught in our programs focus on effective strategy communication, leading in crisis, personal leadership and self-awareness, leading high-performing teams, and setting strategic direction, just to name a few. These capabilities are essential for leaders during this period of unprecedented challenge and transformation. Now more than ever this content is relevant and actionable for participants, their teams, and their organizations—and it's available in our fully virtual programs.
Of course, many participants must obtain support from management before applying. By giving a clear sense of a program's positive impact, it becomes much easier to earn buy-in for executive development programs. To help with this process, we've outlined the benefits to support this initial internal conversation:
Personal and Professional Growth
Tuck's programs give participants the frameworks they need to drive breakout performance for their organizations, such as the cultivation of strategic leadership and communication skills.
By taking the time to pause and reflect, participants have the chance to become inspired and formulate a long-term strategy for their business that takes it to the next level.
Learning from peers and Tuck's esteemed faculty broadens participants' professional networks. Many participants stay connected to those they've met long after the program is complete.
Organizational Growth
Preparing executives to meet future challenges will help them lead the organization through crucial business transitions and unexpected disruptions.
Tuck Executive Education is a chance to bring timely thought leadership and insights from Tuck senior faculty directly into an organization.
Tuck's programs bring real-world relevance to important business concepts and allow participants to immediately share what they've learned with their colleagues post-program.
Our programs offer participants the opportunity to dig into key challenges they are currently facing, gaining advice from faculty and peers on topics ranging from succession planning to strategic growth.
As a leading business school, Tuck attracts candidates from all around the world, filling each participant's organization with global insights. Tuck prides itself on cultivating opportunities for inclusion and diversity. Our Diversity Business Programs, for example, are designed specifically to meet the needs of underrepresented entrepreneurs with the goal of helping owners build and cultivate a successful business.
Potential Objections
Occasionally, there may be some hesitation from management. Here are potential employer objections and how you can respond to them effectively.
"There isn't enough funding."
Having access to Tuck's global thought leadership delivers a strong return on investment for companies who choose to invest in their professionals.
Participants are able to build value for the organization by immediately applying the frameworks they've learned when they return to work. In the Advanced Management Program, participants work on a management action plan to address key issues the organization is facing. During the Leadership and Strategic Impact Program, participants use an inventory of leadership styles to create an action plan for returning to work, and are also able to engage in post-program faculty coaching to compliment the implementation of this plan.
Many of Tuck's previous participants say that the ideas and tools they acquired in the program have generated immediate and significant bottom-line benefits by improving cost-savings and profitability.
In a recent study, 94% of respondents said that if offered professional development opportunities, they would stay at their companies longer, increasing both financial and institutional-knowledge value for the organization.
"We can't afford to have your focus away from work."
Tuck's programs range between five days and two weeks, in order to allow for maximum learning in a short period of time.
The takeaways from all of Tuck's programs can be applied on the job to produce immediate results, making time away from the office worthwhile.
Though we believe you will get the best experience if you are able to focus entirely on the program, we also recognize that you may need to check in with the office from time to time to stay on top of work-related matters, and ample break time allows for this, as well.
"The program is not directly applicable to our company."
Professionals attending Tuck's programs bring real-world situations from their companies into the program to find resolutions through discussion with faculty and peers. Tuck faculty have a range of industry experience across sectors, and have consulted for such companies as American Express, Boeing, Coca-Cola, Disney, Goldman Sachs, Google, and Procter & Gamble.
Discussing business problems with one's peers can provide insight from those in the field who have been there before and found solutions that actually worked. Because participants come from a variety of industries, they offer each other a diverse but applicable perspective.
For companies looking for a truly personalized experience, Tuck Executive Education is happy to partner with organizations on a full range of custom engagements.
Specific Ways to Build Your Case
To help you obtain management support for your participation in Tuck Executive Education, we have compiled ideas to guide you during the course of your internal discussions.
First, ahead of your conversation, devise specific talking points on how you believe the program's learning objectives can be applied to your role. For example, if you wish to advance into a position of increasing responsibility, reiterate your commitment to your company and mention that Tuck Executive Education will teach you the strategic frameworks that will allow you to be an effective leader as you advance your career with the organization.
Next, be sure to highlight the return on investment for your co-workers and for your company. Ask yourself: Will the program help me pass on new skills to my team? Will I build my professional network more fully after meeting esteemed faculty and peers? These are all valuable outcomes that will help you make your case to management.
Your manager may ask specific questions about what will happen to your work when you are focused on the program. Proactively devise a plan for what will happen in your absence.
Finally, in the event of a denial, don't be afraid to submit your request again in the future. Budgets for learning and development programs can fluctuate quarter to quarter, and reiterating your interest demonstrates how passionate and committed you are to learning and growth.
If you're interested in learning more about our programs or putting together a proposal for your supervisor, please contact us at tuck.exec.ed@dartmouth.edu. We hope to welcome you to a Tuck Executive Education program soon!