By Russell Worth Parker
17 September 2019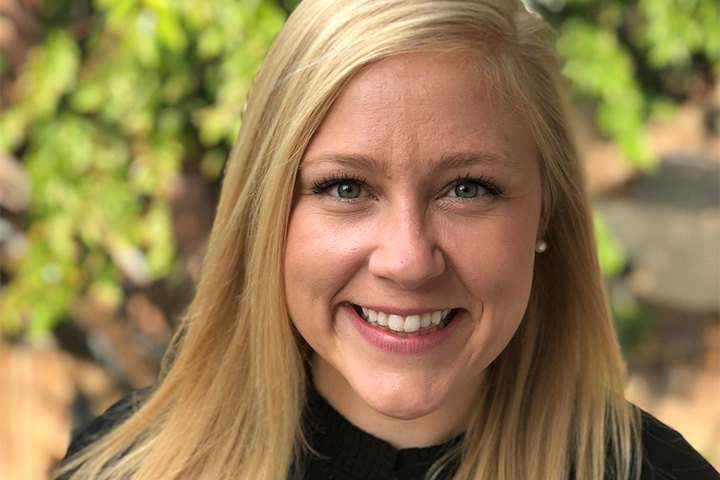 It only takes a minute of conversation with Tuck Next Step alumna Jill Anderson TNS'18 before several themes emerge: gratitude, compassion, and a desire to pay it forward. After more than eight years as an operations research analyst (ORA) in the US Air Force, Anderson is now an engineering program manager at PayPal. There, she manages relationships between disparate tech teams in order to ensure that the routing of information at PayPal is flawless, a critical facet of operations for an international company with more than 200 markets and 277 million active accounts operating in 25 currencies.
Anderson's Air Force record makes clear that she was one of the select few the Air Force considers "high potential officers" and develops for early promotion and positions of high responsibility. However, leadership positions for an ORA in the pilot-centric Air Force are limited. Despite doubts about leaving the certainty of military life, compounded by impostor syndrome that made it hard for her to accept her success as truly hers, Anderson sought avenues where she could give back some of the benefits she has received in life.
Maggie Ward, a Coast Guard ORA and Next Step alumna whom Anderson calls her "guiding light," pointed her towards Tuck and the Next Step program. At Tuck, the Marquette graduate says she found herself "sharing a classroom with the most impressive people I'd ever met. I was seated between a retired Navy SEAL and an Olympic medalist. Over two weeks, Tuck helped me give words to my concerns. More importantly, I realized we all shared them. And I thought, we can get through this."
In fact, Anderson thanks Next Step for instilling in her the confidence to pursue subsequent military transition training opportunities and the job offers stemming from them. "Tuck gave me the confidence to move forward and develop a plan that removed the barriers to entry," a significant factor for someone moving from the male-dominated military to the male-dominated financial technology sector. Of course, Anderson thrives in both environments (she remains an officer in the Air Force Reserve), but it doesn't mean old doubts and societal conditioning don't rear their heads. But asked now what she would tell herself then, Anderson says, "everyone struggles, everyone's journey is different. Calm down, it's going to work out."
Anderson credits the environment at PayPal, where she is energized by the idea of "democratizing financial services and banking the unbanked" as a means of increasing social justice, with doing a lot to alleviate impostor syndrome. At PayPal she has the first female boss she's ever had and sees the company taking active steps to eliminate the gender pay gap. That means she can focus on her job while "moving forward with intention in mentoring others and paying forward what I've been given" to further break down barriers and serve as an example to women in the technology sector.
In short, Jill Anderson is going to lead.
To learn more about the Next Step program, please visit the Tuck Next Step website.