By Kristin Maffei
26 October 2018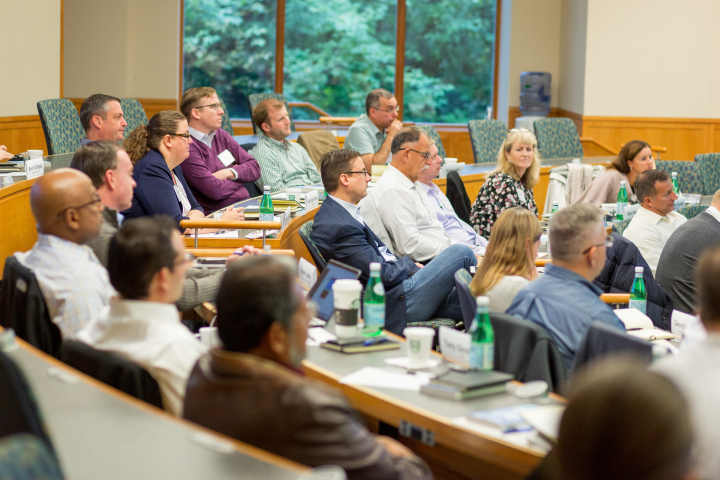 Earlier this month, 34 participants from around the world gathered for a week of leadership learning with Tuck LSI. Integrating key lessons on innovation, the program provided a robust strategic leadership framework that will help these 34 leaders implement strong strategies at their organizations. Professors Sydney Finkelstein and Ron Adner engaged participants on topics like innovation strategy, strategic thinking and execution, and superbosses. "Every high level manager or executive should attend the Tuck program. This program goes far beyond the typical 'leadership' courses," said Tim Tannert, president of SoftWriters, "This is the program to attend if you are looking to develop your strategic decision making, improve your execution, and build a lasting legacy within your team."
There was also ample time for peer learning, as the group got to know each other—and each other's various industries—remarkably well. "LSI provided an excellent cross-section of industries, as well as a great mix of public and private-sector participants," said Nick Russo, a captain in the US Navy. "The diverse views and energetic personalities of our group really made this learning experience one I will always value and use in my work."
In addition to these key lessons, the group also participated in two leadership assessments. The first, a 360 assessment, was led by Professor Pino Audia, who guided participants through understanding their results and creating an action plan to help transition into the leadership style they want to emphasize. A keystone of Tuck's LSI experience, the 360 assessment and action plan allows participants to more deeply understand themselves and set real goals to work on when they return back to their organization.
The second assessment was a Myers-Briggs Type Indicator to help participants understand their personality styles. Run by Action Learning Associates, this off-site day took place at Dowd's Country Inn and allowed for a change of scenery, as well as a day of interactive learning in the form of experiential team-based challenges. After spending the morning learning more about each MBTI personality, participants were able to see their dominant styles at work as they were broken into teams and asked to perform unfamiliar tasks under the pressure of time and other constraints.
Participants also had the good luck of experiencing a session with Marshall Goldsmith, a world renowned executive coach who is retiring this year. Goldsmith's workshop touched on many of the same topics he discusses in his book, What Got You Here Won't Get You There, and worked with participants to consider their reactions to personal and professional challenges and help bring them to the next level.
Overall, the experience was a tremendously powerful one for all participants, who left both challenged to raise the bar of their leadership and prepared to affect real change in their organizations. "My time at Tuck was an opportunity to truly evaluate my strengths as a leader as well as highlight areas for personal improvement," said Kevin Gillespie, chef at Red Beard Restaurants. "Finding yourself in a room full of accomplished professionals, all with the same goal to become better in their work, as well as in life in general, is a very powerful experience."