By Betsy Vereckey
11 June 2019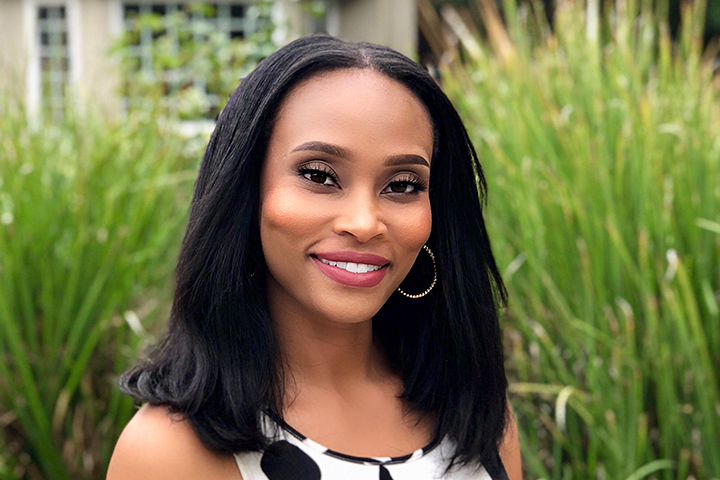 For some time, Gina Woods knew that she wanted to revamp her business, but she wasn't sure what her next steps should be. As the founder and chief executive of JCLE Enterprises, a hair and beauty retailer, Woods was already running a successful multi-million-dollar business, selling her products on Amazon.com and Sears.com. But she wanted to expand in a smart way that made sense for her business.
"I wanted to grow my sales and position my business to a well-known brand and make it successful enough that it would live beyond me," said Woods, who is based in Los Angeles. "I wasn't sure exactly I what I needed or how I would get there, but I knew Tuck's programs could help me."
Woods heard about two Tuck programs tailored for diverse entrepreneurs—Building a High-Performing Business and Growing the Minority Business to Scale—from her sister, who told her about a fellowship opportunity offered by Sundial Brands. The company's CEO, Richelieu Dennis, attended Tuck's diversity programs himself in 2014 and wanted other entrepreneurs to have the same opportunity.
"When I looked at Tuck's programs, I knew that it would be an amazing opportunity for me, but I still didn't think I would have a life-changing event in only five days," Woods said. "It has been a year since I attended, and I am still implementing new concepts and strategies that I've learned from Tuck that have significantly improved my business. "
One session led by Professor Joseph Hall was so relevant that it sparked Woods to rethink her business strategy. Hall advised Woods and her fellow students to reevaluate their competitive priority strategy.
"He told us that we couldn't be everything to everyone—we couldn't have the lowest cost, highest quality and fastest delivery at the same time," Woods said. "That was the exact issue I had. I knew if I were to clearly define my competitive priority, I would be able to make better decisions for my business. After the program, I realized my focus needed to be on delivering consistent and top quality because that is what gave me the biggest competitive advantage in my industry."
Woods also received help with the tough issues that are often unique to entrepreneurs, such as carrying too much responsibility and feeling like you need to have it all together all the time.
"It was incredible to have the support of professors and entrepreneurs of all walks of life because once you get past the mental issues, you can do anything," she said, calling her Tuck network her "family."
Woods was also inspired by Professor Ella Bell Smith, who told participants that they couldn't go wrong in business if they led with their hearts. Woods, who has four children of her own and has always loved young people, was so moved by Smith's session that when she returned home to Los Angeles, she started a Kid's Entrepreneur Camp to teach and inspire young entrepreneurs and explore her passion for social impact.
Woods invited 16 school children to attend the program in her Los Angeles home. Guest speakers included Greg Orton, a New England Patriots NFL champion, who shared his transition from the NFL to entrepreneurship, and Josh Hall, owner of Kona Ice, shared insight into becoming a franchise owner. Students also learned real business skills, such as how to create a business plan, develop their own website and master the art of a successful pitch. Going forward, Woods has decided to make her Kids Entrepreneur Camp into an annual event with on-going business mentorship and support to the children.
"I was so grateful to receive the fellowship from Richelieu Dennis that after listening to Smith's comments, I decided that I was going to pour back into others the incredible opportunity that I had been given," Woods said. "As an African-American woman, I carry a great sense of responsibility to reach new heights in my business so I can lift and inspire others."
For more information about the program, visit Tuck Diversity Business Programs.