By Rachel Hastings
22 June 2022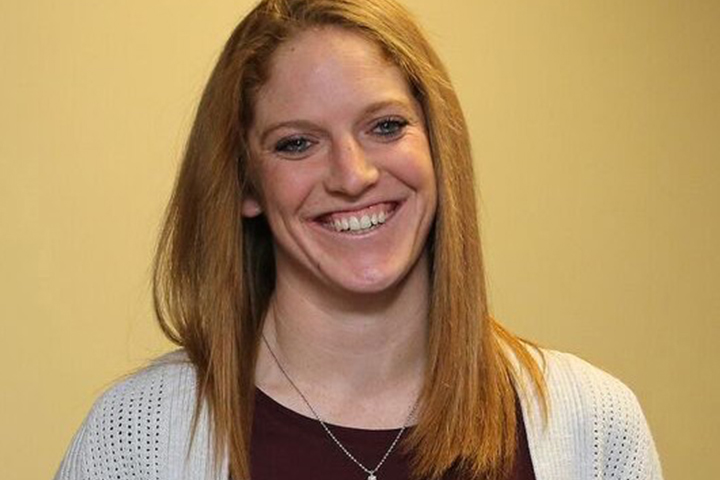 When a two-time Olympic hockey goalie hangs up her skates, what comes next?
For Molly Schaus, the answer includes a diverse array of experiences that ultimately led her to entrepreneurship—and to Tuck Next Step, Tuck's unique two-week business program for elite athletes and military veterans.
Schaus, who played goalie for Boston College and graduated with a degree in human development, was a member of the US Women's National Ice Hockey Team from 2008-2015. Her hockey career included four world championship victories and two Olympic silver medals, as well as two seasons as a professional on the Boston Blades.
After college, Schaus coached goalies at BC, worked at a non-profit, and served as an athlete role model for the 2016 Youth Olympic Games and an athlete ambassador for Right to Play, all while balancing her duties to Team USA.
On her retirement from hockey in 2015, Schaus moved west to work in educational and community outreach as a fan development marketing manager for the Anaheim Ducks. But the same spirit that pushed her to success on the ice soon propelled Schaus into a new adventure, that of entrepreneurship. Together with one of her Olympic strength and conditioning coaches, Schaus launched Movement in a Box, a subscription company designed to inspire children ages three to six to become lifelong movers. She now serves as the company's chief operating officer.
"Being a new start-up, we often wear all of the hats, so my role changes almost every day," she explained. "I currently manage day-to-day operations including website development, digital marketing, content creation, finance, product procurement, logistics, and box fulfillment. I learned through my previous work experiences, and probably as an athlete as well, that my brain is very organized and I approach challenges like solving a puzzle. This role challenges me every day, but it is a good fit because it requires working towards short- and long-term goals and creatively putting together a support team to help fill in some of the gaps."
For Schaus, the startup represents not only a business opportunity, but a way to bring the transformative impacts of sport and movement to the next generation, and to educate parents and caregivers on the benefits of movement-based learning.
Recognizing that formal business training would help her scale the company, Schaus enrolled in Tuck Next Step in 2021, where she quickly found a sense of camaraderie with fellow athletes and veterans.
"There was an immediate level of respect, which made it easy to dive in, open up about our challenges, and create real friendships," Schaus said. "I thought it would be harder to connect in a virtual environment, but very quickly I saw how easy it would be to bond as a group. Both groups are self-motivated, expect a lot of themselves, lift each other up like teammates, and are willing to put in the hard work to figure out what comes next."
Schaus noted that, like veterans, retiring athletes can find the business world's ambiguity to be quite a shift from the highly structured, single-minded environment of top-level training.
"I really enjoyed the courses that required me to challenge my own views and reflect on what else is possible," she explained. "I honestly felt like I left every zoom call with multiple 'ah-ha' moments. All of the professors were incredible, they brought so much energy and passion to their courses and really encouraged all of us to challenge ourselves to think differently."
Thanks to Next Step, Schaus said, she gained the tools to "speak the language" of business and to further analyze its operations and opportunities, which in turn increased her confidence. But above all, she said, she gained the understanding that she was not alone in her transition.
"The guest speakers who could share their own paths with us, the workshops that encouraged design thinking, the tools that helped me understand my strengths and weaknesses better, and the classmates who constantly lifted me up will always stand out to me," she said.
And for Schaus, like all Tuck program participants, Next Step marked the entrance to a new and valuable community of support. "Honestly, it felt like I was part of a team again, and being part of the Tuck Next Step alumni network will continue to keep these connections alive beyond the two-week experience."