By Betsy Vereckey
21 January 2020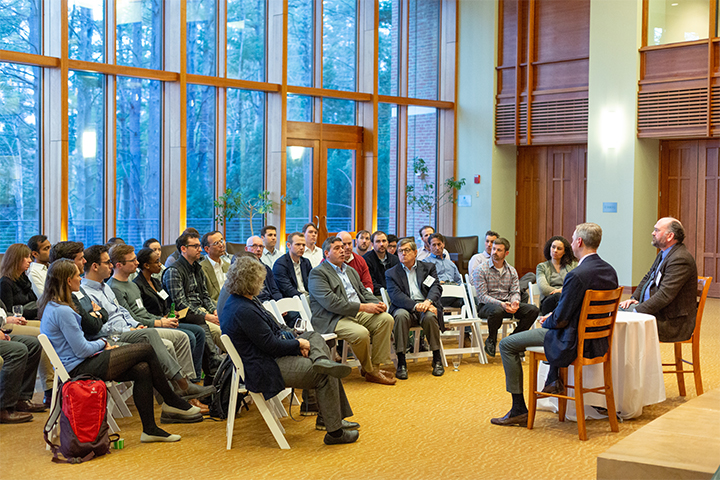 The world of energy today looks nothing like it did even just a few years ago. With widespread market consolidation, a volatile economy, ever-shifting regulations, and climate change, leaders in the industry have a lot to contend with—but they know that each of these challenges offers new opportunity, as well.
Recognizing a growing need to prepare retail energy owners for the future, the New England Fuel Institute (NEFI) and Tuck Executive Education have collaborated to create the NEFI Energy Leaders program. The week-long program, led by Tuck faculty and leaders in the energy industry, kicked off for the first time this past spring, attracting energy leaders from the Northeast, the mid-Atlantic and beyond.
"Looking back 20 years ago, most of the companies in the industry were small," says Peter Aziz, chairperson of NEFI and a founding partner of BantamWesson, an energy and home services company located in Waterbury, CT. "But the industry continues to experience consolidation as companies grow through acquisitions and mergers, and the skills that helped companies succeed to that point aren't enough to meet the challenges of running larger, diversified companies. We built the program to help companies make the transition from small, natural organizations to larger, more professional ones."
Preparing energy executives for this new world was a welcome challenge for Tuck faculty and staff, who were excited to help lead NEFI and its businesses through this important transition.
Tuck Executive Education brought in leading Tuck faculty for the program, including Ron Adner, Alva Taylor, Sydney Finkelstein, and Paul Argenti. The overarching goal was to give participants a robust learning framework so that they could refine their leadership styles, develop their ability to communicate, and implement new business strategies.
"They developed a first-class program that was a resounding success—the quality of professors was just outstanding," recalled Jim Townsend, CEO of Townsend Energy. "They were bright, totally engaged, and taught us critical management and leadership techniques that could be applied immediately to our businesses."
Organizers provided a comprehensive approach for participants by pulling from Dartmouth's incredible resources. "What makes the Tuck program unique is that Dartmouth has the Tuck Revers Center for Energy, the Arthur L. Irving Institute for Energy and Society at Dartmouth and the Thayer School of Engineering—when you're talking about energy, it's all of those things combined," said Sean Cota, the president and CEO of NEFI and a leader of Cota & Cota Oil, a third-generation family-owned oil company located in Bellows Falls, VT. "Across the board, the professors' enthusiasm was absolutely terrific. This experience was unique for our industry and for the professors. The multi-generational family businesses there dove into how they could implement quick change."
In addition, by taking participants out of their day-to-day environment, the program gave them the chance to think long-term about the broader picture for the industry. Cota, for example, was inspired by a specific session with Geoffrey Parker that tackled buying trends and digital disruption. He said it made him think hard about how he could adapt his own business to compete effectively with new competition. Continuing the partnership between Tuck and NEFI, Parker gave the keynote address at this past fall's Heating and Energizing America Trade (HEAT) Show, NEFI's annual conference. He gave an industry summit and spoke on responding to the climate agenda.
Another area that came up frequently for discussion was energy efficiency, as NEFI continues to look for ways to help companies meet their renewable energy commitments. Many have pledged to reduce greenhouse gases by 50 percent by 2030 and at the HEAT Show, the industry committed to achieving net-zero emissions by 2050.
"There are an increasing number of companies, countries, cities, and communities—like Hanover—that have 100 percent renewable energy commitments," said April Salas, the executive director of the Revers Center. "NEFI member companies have a role to play in this transition, making this partnership increasingly relevant and timely."
In addition to Tuck and Dartmouth faculty, the program also brought in Daniel Revers T'89, the managing partner and co-founder of ArcLight Capital Partners and a member of Tuck's board of overseers. Sarah Irving, who is the executive vice president and chief brand officer of Irving Energy, also shared the story of her family business during the program's closing dinner at Simon Pearce Restaurant. She was joined by her father Arthur Irving, who is the founder of the Irving Institute.
"To hear the Irvings themselves talk about the evolution of 75 years, growing from a small family business into what it is today, is exactly the inspiration I think our participants needed," Salas said.
Even after class concluded for the day, participants remained engaged and immersed in the topic.
"We really talked about the ideas we were learning every waking minute of the day," said Aziz, who was fascinated by Professor Praveen Kopalle's session on conjoint analysis.
"I never knew that existed—it's a far better way to predict what your customers will actually choose from a set of offerings," he said. "I immediately brought it back to my marketing director so she could use it."
The 2020 NEFI Energy Leaders program will take place on campus in Hanover, NH from April 19-23, and applications are open now. The curriculum will be slightly modified so that returning participants have the chance to learn new material. For more information, please contact Kaitlin Dumont, associate director of business leadership programs, at Kaitlin.M.Dumont@tuck.dartmouth.edu or 603-646-3729 or Lisa Avery, business manager at NEFI at (617) 924-1000 or Lisa.Avery@nefi.com.