By Rachel Hastings
23 January 2023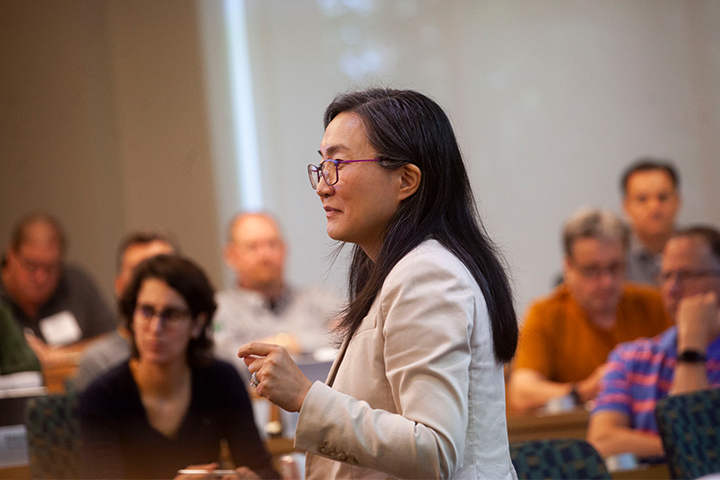 The world of business is constantly evolving—and the last several years have pushed companies to adapt faster than ever. In 2023, Tuck Advanced Management Program (AMP) participants will build new capabilities to meet emerging challenges head-on through a newly retooled curriculum.

While the core structure and goals of Tuck's two-week on-campus program haven't changed, AMP now features additional faculty and an increased focus on timely business issues.

"We updated the curriculum to better reflect and address challenges our participants are facing in their jobs," explained Joseph Gerakos D'90, senior associate dean for innovation and growth and co-director of the AMP program. "For instance, we're bringing in Doug Irwin from the Dartmouth economics department for a session on global economics, including trade issues with China. Geoff Parker from the Thayer School of Engineering will lead a session discussing what executives need to understand about data analytics. Going forward, these types of questions are top of mind for executives."
Updates to AMP's Five Core Modules
The new curriculum shifts some areas of focus to reflect business trends, while continuing AMP's use of integrated, dynamic modules that have been developed to respond to the critical business needs faced by senior leaders in any organization.
Strategy and Innovation
To achieve lasting impact and remain competitive, leaders need to create cultures of continuous innovation, staying ahead of the latest innovations within and beyond their industries. This module exposes participants to cutting-edge frameworks and research that advance senior leaders' abilities to usher in breakthrough innovation in times of change.
Securing Competitive Advantage
Participants examine the conventional and modern critical variables that companies must consider in order to sustain and advance their strategic goals within an interconnected global marketplace. In this module, participants will also learn how the latest international forces might impact their industry and explore strategies for surviving—and thriving—in this context.
Developing a One-Company Mindset
After the turbulence of the last few years, many organizations have dramatically changed how they operate, and many leaders are looking to reorient their organization back towards a 'one-company' mindset, reasserting and redefining their mission and values. This module will explore a wide organizational spectrum that includes the importance of alignment within an organization, how to develop an enterprise-wide mindset and sustain deep employee engagement, and how to reinforce your organization's reputation.
Digital Transformation
In a world of shifting platforms, digital transformation is the defining leadership challenge for today's leaders. In this module, participants explore digitization as a fundamental movement across all industries, and how to position their organization to compete effectively in a digital future that includes Big Data, artificial intelligence, and data analytics.
Leadership and Authenticity Across the ESG spectrum
ESG strategies are ubiquitous in today's business world. To avoid unwanted labels like "greenwashing" and "diversity washing," leaders must unpack and explore the many complex dimensions of the subject. In this module, participants are challenged to discover a new set of guiding principles and frameworks focused on creating a more inclusive and effective organization, along with a look into the failures and successes of ESG strategies and what makes an organization's ESG goals grounded, actionable, and authentic.
Renewed Focus on Management Action Plans
Before arriving at Tuck, every AMP participant is asked to identify one or two significant challenges impacting their organization. With input from Tuck faculty, they develop a Management Action Plan (MAP), which takes program concepts throughout the two-week experience and applies them to the challenges at hand, allowing participants to return to work with a tangible plan of attack. The revamped AMP curriculum places additional emphasis on the MAPs, offering new workshops with faculty and fellow participants during and after the program. Pino Audia, who has long led Tuck Leadership and Strategic Impact (LSI) participants through action planning, will serve as the MAP faculty lead. Upon the program's completion, participants will have the opportunity to reconvene with Audia virtually for follow-ups on their progress.
New Out-of-the-Classroom Experiences
Of course, the Tuck experience is not confined to the classroom, and the new AMP curriculum offers more opportunities than ever to build relationships and expand perspectives outside the classroom, from meeting over dinner at a professor's home to taking in the beauty of Tuck's natural surroundings.

Off campus, experiential learning opportunities will include a "Learning to Look" session led by Dartmouth's Hood Museum of Art team, a conversation with one of the King Arthur Baking Company's CEOs at the company's headquarters, and a rowing session with Team Concepts on the Connecticut River. Participants will leave campus refreshed, inspired, and equipped to tackle their organization's most pressing challenges.

Applications are now open for the next session of the Tuck Advanced Management Program, which runs July 9-21, 2023.