By Betsy Vereckey
15 February 2019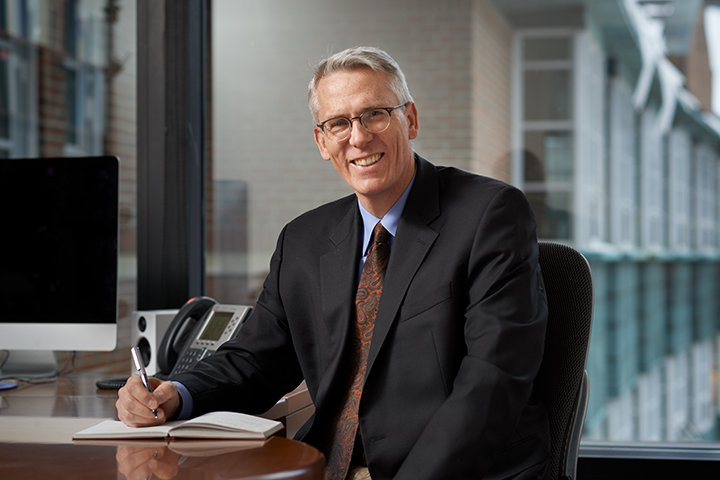 This summer, Tuck's Advanced Management Program will welcome a new addition to its lineup of famed faculty: Geoffrey Parker, professor of engineering and director of the Master of Engineering Management program at the Thayer School of Engineering at Dartmouth, and a leading expert on platforms and two-sided networks.
Parker might be new to AMP, but he is no stranger to Tuck. His Platform Design Management and Strategy course for MBA students is one of Tuck's top courses.
His book, Platform Revolution, was named a "16 Must-Read Business Book for 2016" by Forbes, and his 2016 Harvard Business Review article "Pipelines, Platforms, and the New Rules of Strategy" was designated a top 10 HBR Must Read for 2017. In addition to his work at Dartmouth, Parker is a visiting scholar and research fellow at the MIT Initiative on the Digital Economy.
What will you be teaching in Tuck's AMP program?
At a high level, we'll discuss the forces behind the digitization of the economy. We'll dig in to see how network effects change pricing, strategy, and monetization, then step back and look at some industries and discuss how they might be disrupted or defended. We'll work through the issues of design rules for platforms—not just the giant technology firms—but for any firm that wants to harness the power of increased digitization.
Where did your interest in platform markets and two-sided markets originate?
In 1998 and 1999 during the dot-com boom, I wondered: Why is there so much stuff for free on the Internet? Serious firms that were making a lot of money were also delivering products and services for free. Today we take this for granted, but at the time it was surprising. This inspired us to refine the idea of network effects to create a theory of two-sided networks. Previously, a lot of the work had been done on one-sided networks, but we discovered that it is in a company's interest to subsidize one side by giving them products or services. It makes tremendous economic sense once you incorporate network effects into your analysis.
What research are you currently working on?
A current project I'm working on with a Dartmouth graduate student is looking at where firms have a really good chance of applying artificial intelligence and machine learning to better compete in their industries. To give you an example: While it would be difficult to enter into the Internet service industry against Google or Bing, in lots of other fragmented industries, artificial intelligence hasn't been applied as much, which means they are wide open for exploration.
As the co-chair of the MIT Initiative on the Digital Economy, can you talk about what you see happening in the industry right now?
Last year, at MIT's Platform Strategy Summit, we heard about the importance of technology and scale. We're starting to see a lot of specialization. I think open banking will become an important area in the next few years. There's tremendous interest in having established firms work with fintechs to figure out frameworks whereby fintechs could access their customer base to sell unique solutions. It's an interesting place where I think you'll continue to see innovation.
For executives looking to learn more about digitization and network events, the Tuck Advanced Management Program (AMP) at Dartmouth is a transformative two-week experience designed to give senior executives the advanced skills needed to succeed in today's difficult business landscape. The next session will run from July 7-19, and applications are open today.