By Betsy Vereckey
22 April 2019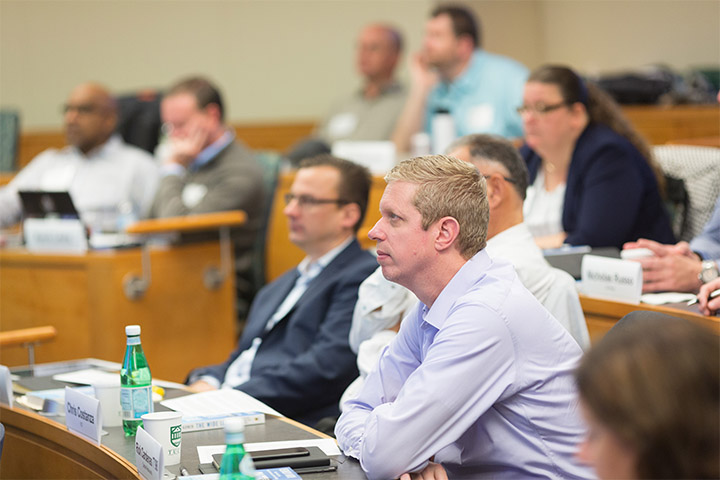 When Darden Restaurants' CFO Rick Cardenas T'98 was considering sending some of the company's top leaders to Tuck's Leadership and Strategic Impact (LSI) executive education program, he knew there was only one good way to assess whether the program would be a good fit. He signed himself up, knowing that stepping away from the day-to-day hustle and bustle would be helpful for his career, too.
"Once you're in a job for a long time, you kind of forget to think differently," Cardenas said. "I thought the LSI program would be a good fit for me personally because I wanted to learn from others outside my industry. I wondered if some of the newer, cutting-edge research I had been hearing about would apply to what we do."
In 2016, Cardenas became CFO of Darden Restaurants, Inc., a Fortune 500 company that owns and operates popular restaurants, such as Olive Garden, LongHorn Steakhouse, and The Capital Grille, among others. With more than 180,000 employees, Darden is considered the largest restaurant company in the world, though Cardenas likens it to Tuck, with its "small, collegial feel," where everyone knows everyone.
As a Tuck alumnus, Cardenas already knew that Tuck was a special place with values that aligned to what Darden held true as a company.
"Tuck educates great leaders to better the world of business, and one of our core values is always teaching, always learning," Cardenas said. "We want to get better every day. There's a lot of that at Tuck, where students are taught how to be better and of service."
While on campus at Tuck's LSI program, Cardenas took away valuable insight from Ron Adner, the David T. McLaughlin D'54 T'55 Professor at Tuck, who spoke about the factors behind whether an innovation will stick.
"Listening to Ron helped me better understand some of the top issues happening in our industry, such as third-party delivery of restaurant meals," Cardenas said. "I have my hypothesis of what I think what will happen, and his class helped cement that to me. What I was thinking makes sense."
Professor Sydney Finkelstein, author of Superbosses: How Exceptional Leaders Master the Flow of Talent, spoke about a key dilemma facing companies today: How to find the right talent and how to bring out the best in them so they can become better performers. Finkelstein's book looks at the practices and values held by successful industry leaders and breaks down this insight into real-world takeaways for managers.
"What Syd said that really resonated with me was that really good bosses do two things—they find talent in unconventional places, and they do all they can to help them lead and flourish," Cardenas said.
Cardenas returned back to Darden impressed with Tuck's LSI program and plans to send Darden's CIO to Hanover in the fall with hopes of building his leadership skills. "I think the program will teach him not just how to communicate better with others, but it will also help him learn more about himself."
For more information about the program, visit Tuck's Leadership and Strategic Impact executive education program.