By Lydia Herndon
13 January 2020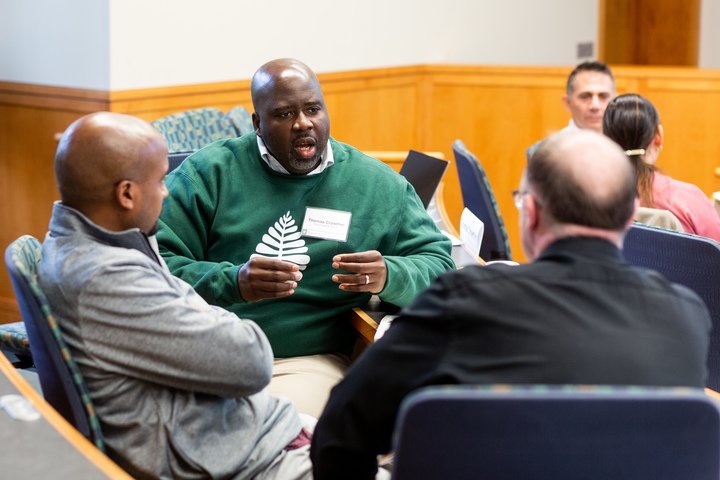 The Crowther Group is growing, and fast. The Dallas-based construction firm was founded in 2017 by Thomas Crowther DBP'19. Although the company is still young, Crowther and his team bring decades of experience in construction to bear on their work. Their expertise has not gone unnoticed, and after only a year in business the firm had won contracts with several Fortune 500 companies, including Target, AT&T, and Core-Mark. In November 2018 the Crowther Group was named the minority business of the year by the Dallas-Forth Worth Minority Supplier Development Council (D/FW MSDC). As Crowther and his team looked ahead to 2019, they saw an increase in their contracts of 438% from the previous year. At the end of 2018, the firm was awarded the largest healthcare system project in Dallas County, with a completion date in 2021. The Crowther Group was experiencing incredible early success and showed no signs of slowing down.
To many, this meteoric trajectory would be a cause for celebration. The Crowther Group took the time to enjoy their accomplishments and recognition in their community, but Crowther knew that he needed to solidify his business in order to take advantage of these opportunities. "Growth and scaling up my business would require a world-class set of business skills in people, strategy, execution, and capital." As part of the D/FW MSDC award that the company had won in 2018, Crowther was granted a scholarship to attend an executive leadership program of his choice. Other leaders in the diverse business world consistently recommended that Crowther attend the Growing an Established Diverse Business program at the Tuck School of Business at Dartmouth, so he applied to the June 2019 session of the program.
At Tuck, Crowther gained the tools he needed to think strategically about scaling his business. A key concept in Growing an Established Diverse Business comes from one of Professor Gail Ayala Taylor's sessions: "Dress me slowly, I'm in a rush." This phrase highlights that periods of rapid growth demand greater care and strategy, because growing businesses cannot afford to make hasty mistakes. Throughout the week, Crowther developed an understanding of what it would look like to "dress" the Crowther Group slowly. Sessions on financial strategy, negotiations and acquisitions, and marketing came together to provide Crowther with a framework for fortifying his business in the midst of rapid growth.
Crowther quickly began to implement the lessons he had learned at Tuck in his business. He restructured the leadership of the Crowther Group to better leverage the strengths of his team. Crowther also pulled back from selling to new clients in order to strengthen internal processes and company culture while delivering on existing contracts. Crowther views this period of development as essential to the sustainability of his company. "We spent so much time casting vision and selling to everyone and not enough time walking our teams through the business's core values and alignment with the right clients," he says. By slowing down and focusing on the Crowther Group's existing clients, Crowther laid the foundation for future external growth.
In addition, the financial lessons Crowther learned at Tuck allowed him to better empower his company's financial leadership to make decisions to drive growth. The Crowther Group shifted their finances to free up capital for reinvestment in the company. Crowther used these funds to enhance the digital infrastructure of his company, which allows the Crowther Group to remain competitive in the digital economy. The changes Crowther implemented after attending the Growing program are driving continued success, and in October 2019 the Crowther Group won a Class 2 Regional Supplier of the Year award from the National Minority Supplier Development Council.
As he strategically grows his business, Crowther also uses what he gained from Growing an Established Diverse Business to give back to his community in Dallas. In the program, Professor Alva Taylor teaches that the best way for diverse business owners to impact their communities is to create the maximum value for internal and external stakeholders. Inspired by this concept, the Crowther Group became an industry partner with Pathways in Technology Early College High School (P-TECH). Through P-TECH, the Crowther Group provides internships to local high school students. Students gain industry experience and mentorship from Crowther's team, and the Crowther Group invests in the next generation workforce.
Counterintuitively, by slowing down, the Crowther Group has experienced increased growth and its most profitable year to date. At Tuck, Crowther found time for the introspection needed to take his business to the next level. He says, "this introspection allowed us to set a healthy pace for growth and refocus on building a solid foundation that ultimately stands the test of time; to slow down so you can scale up."