By Lydia Herndon
13 February 2020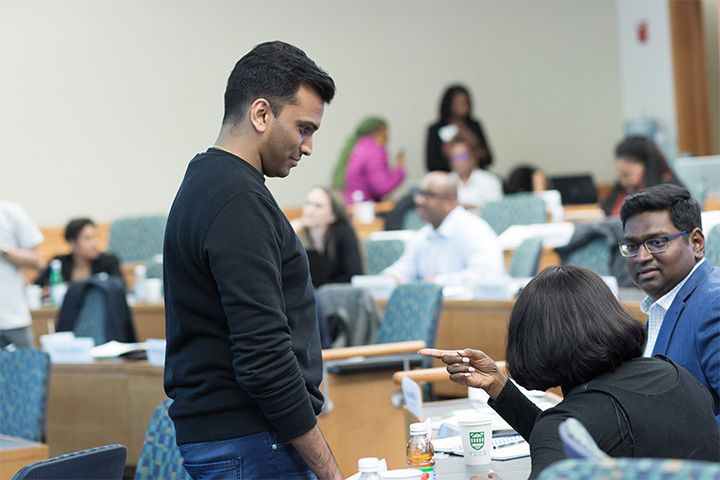 "Purpose over profit" is Sidd Ahmed's motto. Ahmed is the founder and CEO of VDart, a global provider of digital workforce solutions. His company provides custom digital consulting to their clients and specializes in identifying talent for global companies in emerging markets. VDart launched in the midst of the 2008 financial crisis, when many companies seemed more likely to close their doors than expand, but the mission-driven startup quickly gained traction. Ahmed attributes this success to his commitment to "creating opportunities for the success of others." By focusing on generating value for others, Ahmed laid the foundation for VDart's future success.
Before starting VDart, Ahmed had no corporate background or large organization experience. He did not let this gap in traditional business experience limit his company's development, and in the past decade VDart has grown to a nearly $200 million company with more than 2,550 employees in seven countries. As the company underwent rapid growth and secured several Fortune 1000 clients, Ahmed chose to further his business education and strengthen VDart's corporate structure.
In 2013, Ahmed attended the Building a Successful Diverse Business program at the Tuck School of Business to hone his leadership skills. At Tuck he learned about the power of using financial statements to inform decision making, which led him to hire a CFO for VDart after the program. Additionally, Ahmed's time at Tuck showed him that VDart would benefit from a board of advisors. "We needed to expand our services to a broader spectrum and not just stay single-threaded with service offerings. Based on this we dug deep into how a board could be hired and what kind of board composition we would need to have." Through the development of an advisory board, VDart was empowered to expand their portfolio of offerings to include digital transformation solutions, Blockchain-based distributed identity management, business process management, and fraud protection. After seeing the value added through the Building program, Ahmed returned to Tuck for the Growing an Established Diverse Business program the following year to continue investing in scaling his digital company.
After seeing the value added by Ahmed's Tuck experience, VDart sent two of their executives to Building a Successful Diverse Business in May 2019. Senior vice president Vinay Kumar Godavarathi and vice president Oliver Sam came to Tuck Diversity Business Programs because they recognized that financial growth is not the only component of sustainable success. Sam explains, "the annual growth from $35 million to $200 million shouldn't be the only thing we measure. There should also be some growth on the leadership side as well. How are we going to tie this into our vision and touch lives?"
At Tuck, Godavarathi and Sam gained big-picture perspective on the future of the company. "We wanted to look beyond the P&L. VDart's goal is to be a $500 million company and this program was one of the ways to get there." By shifting their focus from the bottom line to developing strong leaders, VDart saw continued fiscal growth and recognition from the business world. In the months following the executives' participation in the Building program, VDart received its most prestigious award to date: NMSDC National MBE of the Year 2019.
VDart has established offices in the US, Canada, UK, and India, and is consistently ranked among the Inc. 5000 fastest growing companies. Using the lessons learned at Tuck, VDart has continued to develop its multinational operations, with recent expansion into Japan, Australia, and Belgium. This continuing upward and outward trajectory allows Sidd Ahmed's dream to be realized on an even larger scale. "The vision has always been to build a leading organization that would touch the lives of people; to create success, wealth, and quality of life."