By Kristin Maffei
11 August 2020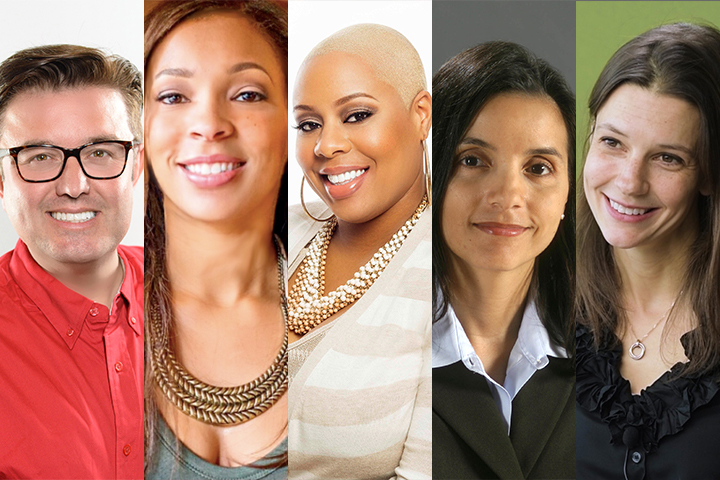 The Tuck Diversity Business Programs board has provided support to the programs and advised Tuck Executive Education on issues related to diversity, inclusion, and entrepreneurship for many years. In 2020, as part of a celebration of the programs' 40th anniversary, we are pleased to announce the addition of five new board members. These members bring exciting insights and perspectives to the board, and we look forward to including them at our next board meet later this summer.
To learn more about each the members, please read their biographies below.
Salvador Enriquez, Wells Fargo
Salvador Enriquez is a supplier diversity manager for Wells Fargo. With more than 17 years of experience in supply chain management and business development, he joined Wells Fargo in 2016. Salvador is responsible for strategic program management in the company's supplier diversity team. In this role, Salvador is responsible for managing the Wells Fargo's supplier diversity capacity-building programs. The goal of the capacity program is to grow diverse businesses while reaffirming the bank's commitment to strengthening small and diverse businesses all over the U.S. In 2019, the capacity-building programs overseen by Salvador trained more than 700 individuals from 40 states and Puerto Rico. Subject matter experts and professors from the top business schools in the country, like and the Tuck School of Business at Dartmouth, teach Wells Fargo's capacity-building programs. In 2019, the National LGBT Chamber of Commerce honored Salvador with the prestigious 2019 Supplier Diversity Advocate of the Year Award for his work with LGBT-owned businesses. In 2018, the U.S. Hispanic Chamber of Commerce honored Salvador with their Corporate Advocate of the Year Award for his advocacy of Hispanic-owned business enterprises at Wells Fargo and beyond.
Prior to joining Wells Fargo, Salvador served as a supply chain responsibility principal with Pacific Gas & Electric (PG&E), where he managed the company's supplier development program and its small business development portfolio. He also managed all supplier diversity outreach events for PG&E, and served as the supplier diversity lead for PG&E's grant-giving program.
Before joining PG&E, Salvador was the chief of business development for the Minority Business Development Agency (U.S. Department of Commerce) for eight years. He also served as a financial economist for the U.S. Department of State's Bureau of Western Hemisphere Affairs and was a political appointee with the Clinton administration at the U.S. Department of Defense.
Salvador has an M.A. in international policy studies and economics from the Middlebury Institute of International Studies in Monterey, CA, and holds degrees in political science and Spanish from the University of California in Santa Barbara, CA. He is married and has a son and two daughters.
Simone Jordan, Sundial Brands
Simone Jordan is the head of community commerce at Sundial Brands, a Unilever company and the maker of SheaMoisture, Nubian Heritage, MCJW Beauty, and Nyakio. Simone oversees global corporate social responsibility strategy for the company, advising executive leadership on long-term strategy in creating sustainable impact for underserved communities in its supply chain, and consumer territories. Simone leads her team in designing community-driven programs particularly focused on women's entrepreneurship, education, and empowerment, and also guides the business's strategic partnerships. Recently, she's launched a $1 million relief fund to support entrepreneurs of color and small businesses, driven by SheaMoisture's long-established Community Commerce purpose business model. Under the company's Community Commerce model, Simone has managed $7 million in investments throughout the U.S. and Africa. In addition to this work, Simone also leads digital strategy across Sundial Brand's social media and online platforms to amplify content for its purpose-driven business efforts and partnerships.
Hailing from Prince George's County, MD, Simone moved to New York in 2012 to work on Wall Street with the nation's oldest civil rights organization dedicated to empowering communities of color through economic and social empowerment. There she oversaw digital strategy and integrated marketing as its VP of marketing, helping to develop strategies to support sponsorships and affiliate programs. She was particularly successful developing online campaigns that positively impacted brand awareness and visibility for corporate sponsors.
Simone graduated from the University of Virginia with a bachelor's degree in English and politics, and received her master's degree in marketing from the University of Maryland Global Campus after studying political affairs abroad at Westminster University in the U.K. Simone currently lives in downtown Brooklyn where she consults part-time with small businesses to develop B2C website, eCommerce and content strategy.
Tiffany Keaton, TIAA
Tiffany Keaton is an entrepreneur, culture worker and creative engine who engages innovative solutions that center minority- and women-owned businesses as a natural and integral part of organizations.
As program manager of supplier diversity at TIAA in Tiffany identifies, develops, and connects viable business enterprises to the company's procurement and sourcing process, and serves as internal consultant to advocate for using diverse businesses throughout the organization. Since 2017, Tiffany has been responsible for working alongside leadership teams to draft new programs and resources, lead outreach efforts to various organizations, and collaborate across teams and departments to promote diversity within the supply chain. Recently, she was responsible for the program's effective and efficient response to including global supply, an initiative that oversees and champions the inclusion of women-owned businesses in TIAA's India markets.
Joining TIAA in 2015, Tiffany has served on numerous business inclusion industry boards and associations such as National LGBT Chamber of Commerce, National Minority Supplier Development Council and USPAACC.
With over 25 years of entrepreneurship and nonprofit leadership at the helm, Tiffany is the founder of Tip Jones Global, a marketing and consulting firm that offers support, resources, and education to Black women-owned businesses, providing tailored solutions that reinstate vision and automate performance management towards profit and growth success. A native of Bronx, NY, Tiffany resides in North Carolina with her husband, Eliah, and is mom to two birth babies and three bonus babies.
Maria Prince, National Minority Supplier Development Council
Maria Prince is the vice president of the NMSDC Academy, and an accomplished supply chain professional with over 25 years of experience that includes accounting, operations, logistics, consulting, e-procurement, and strategic sourcing. Maria has spent her career leading and developing people, managing successful cross-functional teams, building relationships, and getting excellent results that improve profitability. She has industry experience in food and beverage, consumer packaged goods, technology, and retail and has breadth of sourcing knowledge and best practice experience that she has leveraged throughout her career. Her international sourcing experience has allowed her to travel the globe working with diverse teams and supply chain partners.
Maria is currently following her passion and leveraging her experience by providing training, development, and support to minority business owners and the corporations who look to do business with them. She is able to leverage this experience as the new vice president of NMSDC Academy which provides programming, development, and services for minority business owners and corporate procurement and supplier diversity professionals. The Academy will also serve as the hub for best practices and research in the supplier development and diversity space.
Maria's previous experience includes executive supply chain and procurement leadership roles for Fortune 500 companies: Sysco Foods, Zales, Walmart, LBrands and PepsiCo. She has also had entrepreneurial experience as a founding member and director of Mindflow Technologies, a minority-owned software company offering strategic sourcing management software. This company was sold to Emptoris, which was later acquired by IBM. Maria earned her BS and MBA from the Naveen Jindal School of Management at the University of Texas at Dallas. Maria volunteers for a number of charities that support women, is a 25-year member of Alpha Kappa Alpha Sorority, and a member of the Institute for Supply Management (ISM), a professional organization for sourcing and procurement practitioners. She has earned numerous awards and recognition for her work in developing minority- and women-owned businesses and has served on a number of nonprofit boards.
Frances Brooks Taplett T'08, The Broad Institute
Frances Brooks Taplett T'08 is the chief people officer at the Broad Institute of MIT and Harvard. She leads the human resources team with an empathetic approach, and is focused on developing strategies built on metrics, accountability, and enabling the best science.
Frances spent 12 years as an HR executive and consulting partner at Boston Consulting Group, advising major organizations, including life science, energy, and engineering companies, non-profit organizations, and education institutions. In that role, she leveraged qualitative and quantitative data to increase employee engagement and improve diversity and inclusion efforts.
Frances holds a B.A. in economics from Stanford University and an M.B.A. from the Tuck School of Business at Dartmouth. She has published numerous articles about policy and culture, including around diversity and inclusion—particularly, management's role in diversity and inclusion.