By Betsy Vereckey
15 December 2020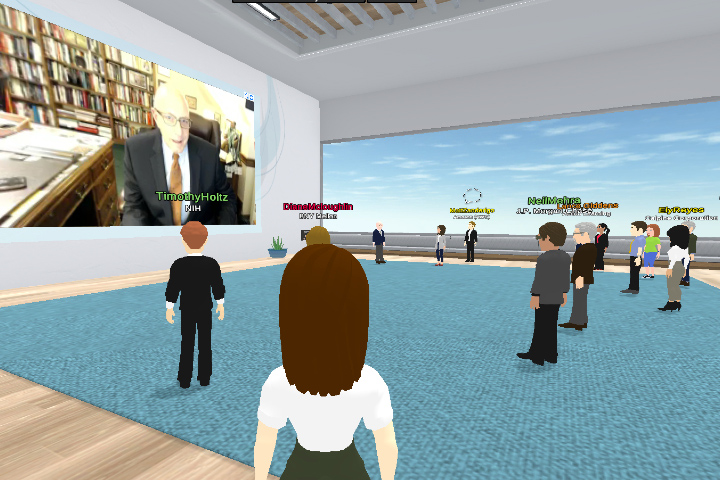 For years, Tuck Executive Education's flagship Leadership and Strategic Impact Program (LSI) has attracted successful leaders looking for an immersive educational experience in an intimate setting.
With the onset of the COVID-19 pandemic, when it became clear it would be impossible to hold the program in-person for safety reasons, the Tuck LSI team began thinking about how to pivot the program to a virtual experience while maintaining the academic rigor, personalization, engagement and other qualities that make the LSI experience so unique.
One thing was for certain; it did not make sense to wait. During the pandemic's unprecedented time of change, skills such as learning how to best lead in times of rapid change and communicate effectively with your team, are more relevant than ever.
In late October, participants gathered for Tuck's first-ever virtual LSI program, taught by Tuck's preeminent thought leaders who combine academic expertise with strong industry experience and context. Many participants came away from LSI feeling better prepared to tackle this "new normal" and reinvigorated—having taken the time and space to invest in themselves during the pandemic.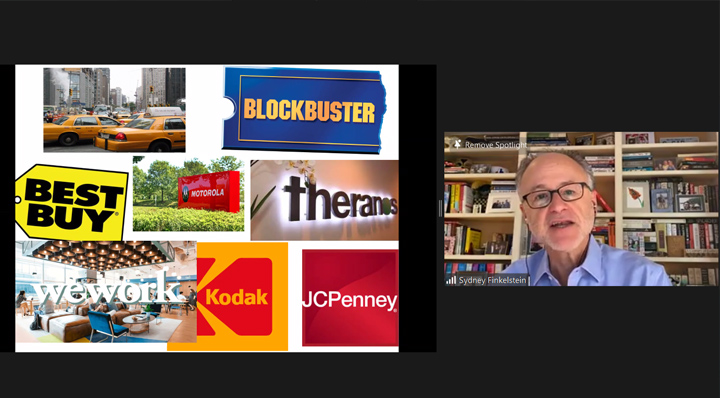 During the program, participants engage in interactive live virtual sessions with faculty thought-leaders, including Tuck Professor Sydney Finkelstein.
"The Tuck LSI program provided an excellent opportunity to hit pause and reflect on myself, my leadership style, and who I want to be in the future," says Lindsay Kissel, a vice president of sales at TUUCI.
The virtual program is designed with a dynamic variety of learning modalities. Pre-program features asynchronous engagement through interactive discussion boards, custom video content, and personal assessments. During the program, participants engage in interactive live virtual sessions with faculty thought-leaders, small team discussions, and peer-coaching. LSI also employs a leading-edge virtual reality platform that supports organic networking and social cohesion. Post-program, executives have the opportunity to advance their learning through one-on-one coaching calls with Tuck faculty. These personal sessions assist participants to implement the frameworks and action plans developed during the program effectively in their roles. The combination of these learning modalities maintains the connection and personalization that makes LSI such an impactful learning experience.
A virtual learning experience to rival in-person
A virtual program didn't deter Elynor Reyes, vice president of commercial real time operations at Calpine, a Houston-based power company. Reyes had been admitted to the program when it was scheduled to be a residential experience, but even after she found out that it would be virtual, she stayed committed, knowing how much she has been able to accomplish virtually in her own role.
Above all, she did not want to put off the opportunity, even if the pandemic had upended her workplace.
"I realized that I didn't know how long COVID would last, and as a general matter, when you wait for things to happen to you, it's not going to be good for you," Reyes says. "When an opportunity is presented to you, you jump on it."
How to lead in times of crisis
For Dr. Timothy Holtz, the deputy director of the Office of AIDS Research at the National Institutes of Health, there was no better time to expand on his leadership skills. He was relatively new to his role and facing new challenges presented by the COVID-19 pandemic.
Before deciding on a program, he looked at different options and decided to attend Tuck on the recommendation of Dr. Lisa Adams Geisel'90, a close acquaintance and professor at Dartmouth's Geisel School of Medicine.
Holtz was especially inspired by Professor Pino Audia and his sessions on leadership, finding them applicable across a variety of sectors—public, private, nonprofit, as well as governmental.
Like many individuals, Holtz found himself juggling multiple responsibilities amid the added pressure of the COVID-19 pandemic, but what he learned at Tuck helped him navigate the uncertainty. In particular, Professor Audia's discussions on different leadership styles and when to effectively use them was particularly impactful for Holtz, especially the discussion on directive leadership.
"A directive leadership style is required in many situations in an executive office, and that has come up multiple times during the last month," Holtz says. "I've definitely been through numerous situations where I've been able to exert more directive leadership where I may not have before, task out things that I may have done myself and leaned a bit more on my management team."
Personalized feedback, proven results
Pre-program, LSI participants have a unique opportunity to participate in a 360-degree review and leadership styles diagnostic, both of which are designed to provide insight into their strengths and growth opportunities as a leader.
Holtz says that his assessment corroborated some of the impressions he had about his own leadership and provided valuable information on his strengths, as well as what his peers and colleagues thought he needed to further enhance.
"The feedback I received from the 360 evaluation and the assessment really helped me understand the skills I have been using before and what skills people I work with are hoping I can exhibit going forward," he says.
For Reyes, who was promoted in March just as the pandemic was beginning to surge, her 360 evaluation helped her become more reflective and self-aware.
"The program couldn't be any more timely in terms of COVID and my promotion, and why I say that is because the COVID situation brings a lot of good and bad from a lot of people, and it takes a lot of heart to be able to redirect some of the bad that you see," Reyes says. "Some of that is just emotion from people because of what they're going through. Because of the restrictions, you have to be a little bit more steadfast in trying to be flexible. It was perfect timing."
Tuck is now accepting applications for the spring 2021 LSI session, which will be held from May 16-21, once again as a fully virtual experience. For more information about Tuck's LSI program, you may wish to watch this recording of a recent information session or read more about the program here.
---
Please contact the Tuck Executive Education team, for more information. We're happy to answer any questions you have and discuss how the program may align with your unique learning objectives