By Betsy Vereckey
26 February 2021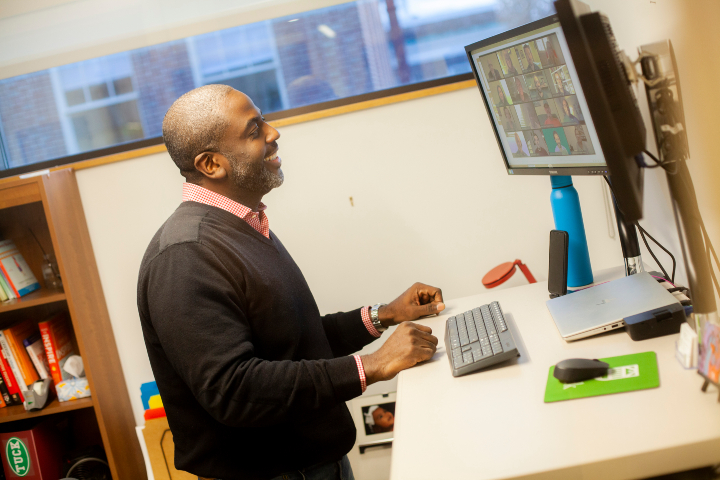 For 40 years, Tuck's Diversity Business Programs have been providing entrepreneurs with valuable, real world skills they need to build and grow their businesses. With the onset of the COVID-19 pandemic, Tuck's Executive Education team realized that it would be impossible to hold the autumn 2020 program on campus for safety reasons.
And so, the Tuck team decided to launch Building a Successful Diverse Business virtually for the first time in four decades. The Tuck faculty and staff team managed to incorporate all the qualities that make Tuck's on-campus experience so unique among business schools by designing an academically rigorous virtual program that's personalized and transformative. By keeping it true to these qualities, the program was as impactful as an in-person experience and set itself apart from other online programs.
The enrollment response was astounding—64 participants were accepted, one of the highest the program has ever recorded, demonstrating not just the interest in Tuck's Diversity Business Programs, but also exemplifying the strong reputation Tuck has cultivated in the field.
"When we saw how much the pandemic was impacting business owners' ability to travel and what a huge need exists for new business knowledge and skills, we began planning an online version of one of our pillar programs," says Emmanuel Ajavon, associate director of business leadership programs. "We found that giving people the flexibility to attend a virtual program made it a lot more convenient during the pandemic. They didn't have to work out travel arrangements. They could experience everything that makes the program great from the comfort of their home or office."
The program's organizers knew that many participants were already spending most of their time online and struggling with "Zoom fatigue." That's why the team transformed the program into a two-week experience. Participating entrepreneurs attended Monday, Wednesday, and Friday and had the rest of the week to devote their time to work or other responsibilities.
The program also provided plenty of variety, including learning groups in the morning and breakout rooms for lectures in the afternoon, with the program concluding each day at 1:30 p.m. Sessions were peppered with videos, readings, podcasts, and interactive discussion boards to drive engagement.
Topics spanned the key areas that entrepreneurs need to master for success, such as strategy, marketing, financial analysis, operations, management, and leadership. At the end of the program, participants were able to return to their businesses with new capabilities, strategies and action plans, such as how to diversify your client base and how to improve your marketing outreach.
One session on how to manage change, for example, taught by Professor Alva Taylor, helped the entrepreneurial leaders learn how to "swivel" their strategies, "prune, accelerate, and change" during challenging times, and develop better strategies for the future. Participants were also inspired by Ella Bell Smith's workshop on authenticity and leadership, skills that are crucial to success during a time when many employees feel isolated and are craving connection.
Many participants left the program feeling better prepared to tackle their business challenges, such as Katrina High, the founding partner of Artemis Factor.
"There are many business programs that teach similar content, but how it's taught and who teaches it matter," she says. "The level of care, passion and expertise from the Tuck professors was remarkable. Those were the distinguishing elements that made the Tuck experience phenomenal."
Other participants said they were glad they took the time to invest in themselves and were grateful they hadn't waited, pandemic or not. With 2021 on the horizon, many felt like the program helped them set goals for the coming year and put their amended strategies in place.
"I am walking away from this program with complete confidence that I am a better person and entrepreneur than I was two weeks ago—without a doubt," said Alysia S. Gemma, vice president of strategic initiatives at CQ fluency. "I currently have 29 pages of notes that keep growing. The pages are filled with the many golden nuggets, resources, impactful quotes and slides. It will be my bible as I move forward."
The program was such a success that in spring 2021, organizers plan to offer virtual sessions for Building a Successful Diverse Business and Growing an Established Diverse Business. For more information, please contact Emmanuel Ajavon or read more about the program here.