By Michelle Campbell
29 September 2020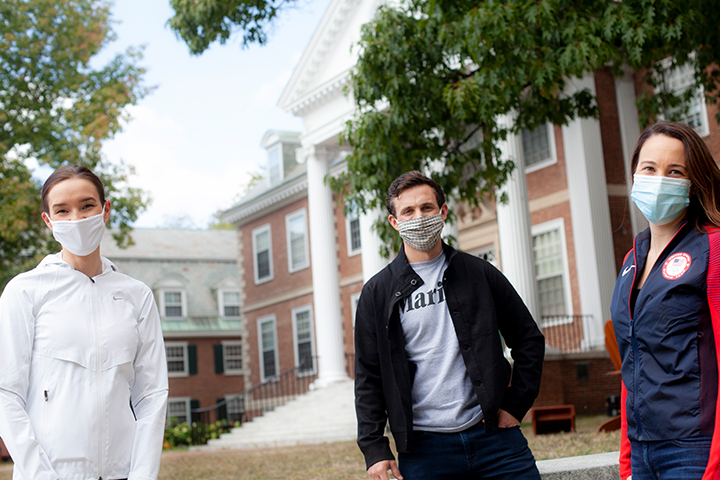 Imagine an Ivy League learning environment where dozens of the country's most successful veterans and elite athletes come together. The remarkable members of this cohort have backgrounds in myriad Olympic, Paralympic, and professional sports and in the five branches of the armed forces. All members of the group are at a similar point in life – they are transitioning from sport or the military into the civilian world. These individuals come together at the Tuck School of Business to navigate that transition and refocus their sights on a new horizon: a career in business.
Tuck Next Step is a general-management certificate program designed to teach foundational business acumen to this unparalleled group of individuals. By nature high performing, team oriented, and operationally focused, service members and athletes regularly perform under pressure but as they move into new careers they need to re-contextualize their skills and experience. For some, Next Step even inspires them to delve deeper into new areas of interest and further their business education by pursuing an MBA degree.
This year, we are delighted to welcome three Next Step alumni, Taylor Dillenberger TNS'19, Tatiana Ladygina TNS'17, and Briana Provancha TNS'19, back to the Tuck community as MBA candidates. Below, please read short interviews to learn about their first experience at Tuck—and why it made them hungry for more.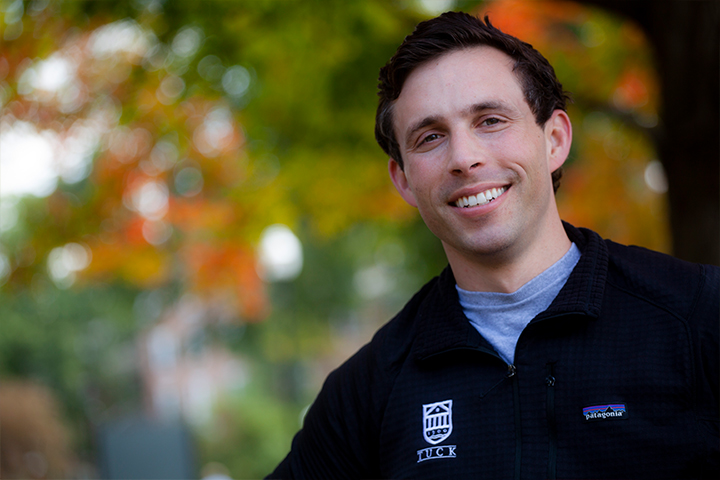 Taylor Dillenberger T'22, United States Marine Corps
During the winter of 2019, Taylor Dillenberger TNS'19 considered his options as he prepared to transition from the United States Marine Corps the following fall. In the short term, he hoped to work for an industry-leading consulting firm, but his long-term goal was to own his own business and eventually return to public service. He learned about Next Step from a fellow Marine, who was introduced to the program by a program alum. Dillenberger researched the Next Step program and confirmed that it would grow his network, help him develop new skills, and guide him toward deciding what his next move should be to reach his goals.
What was the best part of the Next Step program for you?
What truly made my Next Step experience special was the unparalleled veteran/athlete dynamic in the cohort. We were all encouraged to shed our surface-level identity shell of runner, Marine, biathlete, or SEAL, to name a few. The vulnerability I felt without my surface identity allowed me to connect on a more profound and meaningful level. The relationships, comradery, and bond among this top-notch group was especially useful for me as a veteran, because it helped me avoid grouping into my respective peer organizations and encouraged me to branch out and make connections with unexpected members of my cohort.
How did the program influence your vision for the future?
The communication exercises with Professor Lang and personality/leadership sessions with Whit Mitchell were extremely enlightening. They helped develop my communication skills and adapt my personal presentation style to more effectively deliver my intended message. I have always been extremely comfortable communicating with large groups of people or in new social settings; however, the exercises taught me how to optimize my approach based on the audience. I lacked an awareness about certain parts of my leadership style that the program was able to highlight during the DISC assessment review.
Next Step fostered an environment that provided me with top-level exposure to business concepts taught by distinguished faculty. The program helped me define my post-service objectives and create personal connections with a group of highly accomplished people in a similar career transition stage.
Through this transformative learning experience, Next Step helped me realize that I wanted to earn my MBA from the Tuck School of Business. The immersive program helped me uncover the courage to admit what I did not know. I learned to define the skills and qualifications required to achieve my long-term career goals.
How did Next Step help you in your transition?
Next Step was the most influential part of my transition journey, and it comes down to the community. The approachable demeanor and caliber of faculty, students and staff is unmatched. The networks I developed with the Next Step community remain strong. I frequently lean on my peers for advice on a range of topics from my reserves career and post-MBA options to recommendations for winter sports equipment. (I look forward to skiing the slopes this winter on the beautiful mountains of NH and VT!)


Tatiana Ladygina T'22, Russian National Track and Field Team
Prior to coming to Next Step, Tatiana Ladygina TNS'17 had dedicated her life to the sport she loves, track and field. However, by the end of 2016, Tatiana started thinking about retiring from her athletic career, where she excelled on the Russian National Track and Field Team. She was not sure whether the time was right for her. After two injuries in a row and an unfolding crisis in the team, Tatiana felt she was losing control over her athletic career; however, track and field was her passion. The thought of not pursuing her dream of an Olympic medal was painful. To help her make this decision, Tatiana's brother-in-law, William Du T'18, told her about a new program at Tuck for professional athletes and military veterans, and suggested that she apply.
Tell us about your experience with Next Step.
My overall experience exceeded expectations. Next Step offers so much more than just exposure to world-renowned professors and a stellar in-class learning experience. It broadened my skill set, helped me find the courage to move towards new aspirations, and introduced me to many bright and accomplished individuals who became my friends.
The world is full of opportunities for hard-working, disciplined, goal-oriented, competitive people ready to learn and lead in their areas of interest. Athletes and veterans have all these qualities, and that is why they are valued so highly in the business world. One thing Next Step taught me is that we just need to step out of our comfort zones and start moving towards the future of our choosing.
How did Next Step help you find your path?
Next Step introduced me to a group of fascinating people going through a similar process of pivoting their careers. It helped me discover opportunities for a retired professional athlete, and, most importantly, I met caring people to guide and support me through the transition. Next Step gave me the confidence to make the first steps towards a new career in the world of business.
I also want to share that thanks to Next Step, I am now a happily married mom of a seven-month-old daughter. When I arrived in Hanover for Next Step, my brother-in-law invited me to a Tuck Carnival party. At this event, I met my future husband, Andy Ladygin (T'17). If not for the program, we might have never met. For me, Next Step was life-changing not only professionally but also personally.
What made you decide to apply to and come to Tuck for your MBA?
I applied to Tuck because I had a small glimpse of the experience while participating in the Next Step program, and I knew I wanted more. From that, and the Tuck stories I heard from my husband and brother-in-law, I had a clear picture of my Tuck MBA adventure in terms of academics, career opportunities, location, and community.
Tuck is one of the top business schools globally and is known for its professors and strong academics. Based on firsthand knowledge that my family members and their classmates shared with me, I feel assured that Tuck has numerous resources to help me land my dream job.
I am excited to begin my Tuck journey and become a part of Tuck's close-knit, supportive, and family-oriented community. The woodlands, crystal-clear lakes, and rivers full of wildlife surround Tuck. I knew such a peaceful atmosphere would help me concentrate on my studies and give me a chance to enjoy outdoor activities all year round.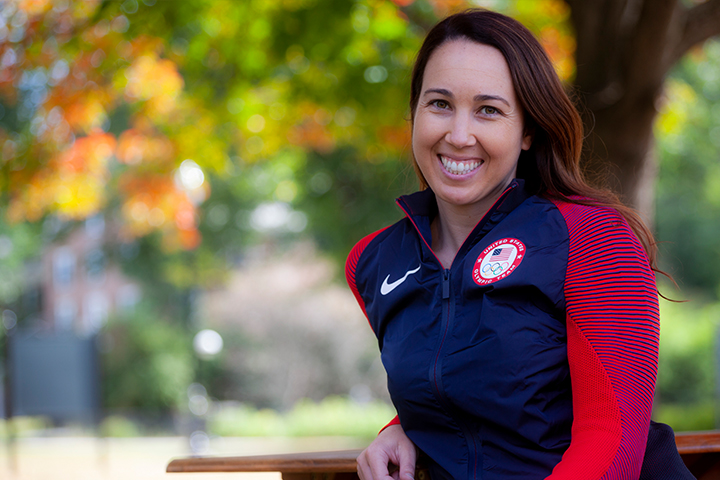 Briana Provancha T'22, United States National Sailing Team
Briana Provancha TNS'19 always dreamed of competing in the Olympic Games. She trained vigorously in this pursuit and accomplished this dream at the 2016 Olympics in Rio de Janeiro when she competed in her beloved sport of sailing. Shortly after Provancha competed in the Olympic Games, she decided to pursue another long-term goal: to grow into a forward-thinking and inspiring executive-level marketer leading a global corporation. Sponsor companies like P&G and Nike left a lasting impression on her after the Olympics. Inspired by this new—and unfamiliar—dream, Provancha joined Next Step to learn more about marketing and strategy, with an ultimate goal of creating memorable moments for others.
Did anything about Next Step surprise you?
Next Step completely blew me away! You're with sixty other athletes and veterans experiencing a life transition. The people I met and the opportunity to hear their stories and perspective were instrumental to the experience. It surprised me how valuable the soft skills and emotional intelligence that we learn through sport are to the business world.
The dynamic cohort was one of the most compelling parts of the program; however, there are many transformative elements. Next Step also showcased different industries and career options available to me. I walked away with a vision of where I saw myself in 10 or 15 years, which excites me.
Did Next Step change your plans or vision for what those 10-15 years would look like?
Sport has been part of my life for so long, and an emptiness overwhelmed me when I retired. This program helped me reflect on those emotions, and ultimately allowed me to envision a fulfilling career that excites me outside of sport. The curriculum and cases we worked through built my confidence as I developed my skillset and broadened my perspective. I also realized that I wanted to keep learning and "putting in the reps," and that an MBA was the right next step for me. I was crossing my fingers that it would be at Tuck.
What are you looking forward to as you prepare for your first year at Tuck?
Participating in the Next Step program taught me that leaders are not built in a day but built daily. Leadership is a process that starts with awareness and a desire to be better tomorrow than you were the day before.
The transformative and connected two-week experience at Next Step inspired me to envision the leader I could become during my two years at Tuck. I look forward to the full Tuck experience and the opportunity to grow in a supportive environment while embracing challenges alongside a great group of people.
Applications for the spring 2021 Next Step program are now open. To learn more about the program, please visit the Tuck Next Step website.