By Kristin Maffei
24 September 2020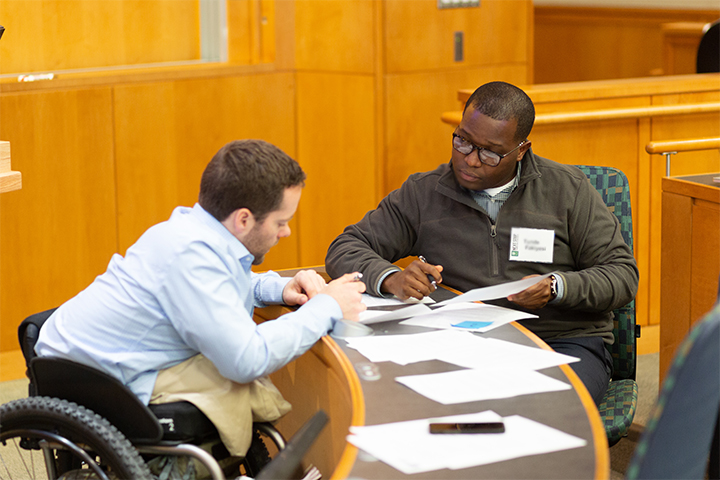 Tuck Executive Education is excited to announce that we will be offering the spring 2021 session of Tuck Next Step as a virtual experience in April 2021. The program's faculty director, teaching team, and staff look forward to continuing Next Step's legacy of offering deeply impactful education for transitioning athletes and veterans who are preparing to meet today's opportunities.
Because of the new virtual format, we are pleased to be able to open the program to a larger cohort than a residential session would have allowed. We will have two sections of up to 60 participants each, so participants will have the opportunity to connect and network with more of their peers than would have been possible before.
The virtual Next Step experience will be slightly longer than the original residential footprint, and will include the same faculty and content as the residential program would have. All coursework will take place from April 5-21, 2021. Throughout the program, faculty will use innovative session designs and technologies to make this a high impact and engaging online learning experience for veterans and athletes.
Our faculty are adept at bringing classroom discussions to life in a distance-learning environment and creating experiences that are personal, connected, and transformative. Tuck's digital capabilities include live Zoom sessions with faculty thought-leaders, small group work, and asynchronous content such as videos, readings, podcasts, and interactive discussion boards.
To learn more about the program, please read our FAQ or watch our recent information session below. Applications for Tuck Next Step are open now and due on October 12, 2020.
Frequently Asked Questions
What do you mean by a "virtual" experience? What are your digital capabilities?
Our digital capabilities include live Zoom sessions and 1:1 interaction with our faculty thought-leaders; asynchronous content such as videos, readings, podcasts, and interactive discussion boards; and a leading-edge virtual reality platform that fosters discussion, engagement, and the ability to social network across the cohort, similar to what would occur on-campus during coffee breaks and meals.
Why did you decide to offer a virtual experience instead of a residential experience?
Under current guidelines, to offer a residential experience we would need to enforce a 14-day self-quarantine period prior to the program for all participants coming from outside of New Hampshire, Vermont, or Maine, per state health guidance; require daily health screenings; and restrict the number of participants in the program, as well as the size of the venue for the program sessions, in order to ensure proper social-distancing. With these limitations in mind, we ultimately concluded that making this call now would allow us to shift the program model in a well-considered and organized way so that we can deliver the best possible experience for participants.
Will the program still take place on the same timeline?
No. The program will now take place from April 5-21, 2021. All coursework will now be consolidated to one set of dates, rather than an online learning phase and a "live" learning phase. As a result, the program will be slightly longer than the original residential footprint.
What is the time commitment for the virtual program? Do I need to take off from work to take part in the program?
Since virtual delivery of Next Step is new for the program, we will take time to understand the needs of our participant group and try to accommodate those as much as is feasible. Admitted candidates will have the opportunity to ask detailed questions about the schedule before confirming their enrollment. The approximate time commitment is:
4 hours of live, time-specific class sessions per day
6 hours of self-paced coursework per week, to be completed on your own schedule
2-3 extra-curricular and (optional) social events throughout each week
1-2 self-scheduled meetings with your study group
Whether to take time off from work is at each participant's discretion and will likely depend on whether they work outside of the home and on how flexible their schedule is. While one-off conflicts may occur during the course of Next Step, we do require that each participant commit to this expectation out of respect for the program faculty and their classmates.
How will this experience be different than a typical Zoom meeting?
Even though you may already be familiar with video conferencing, Next Step will be a completely different experience than you may be used to from attending webinars in the past. While Zoom is an incredible platform for faculty to teach their live sessions, in order to combat "Zoom fatigue," we will be limiting their length. There will be about four hours of live, time-specific content each day, and the program's structure is designed to create space for you to reflect throughout.
In addition to these live sessions, there will be opportunity for small group work, faculty office hours, and informal social interactions and networking. We leverage asynchronous learning through discussion boards and group chat, and as mentioned, are incorporating a new virtual reality campus into the program design, which will allow for a truly immersive and transformative experience.
Will there be a discount for the new program format?
More than half of the full program price of $25,000 is charitably underwritten by donors and Tuck. This covers the cost of meals, accommodations, and some tuition. The AGI-sensitive participant fee covers the balance of tuition, and so we are unable to reduce the price further for this virtual session. To learn more about the participant fee and options for payment, please visit our policies page.
What if I want to wait until an on-campus session is offered again?
This is the only Next Step program currently planned for 2021. Additionally, given the uncertainty around the current global environment, there is no way for us to definitely say when our next residential session will occur. Waiting for the possibility of a residential experience will not be considered an acceptable cause for deferral. The frameworks and content taught during Next Step are critical now, so if you are considering joining us, we strongly recommend you apply for this session.