By Michelle Campbell
16 July 2020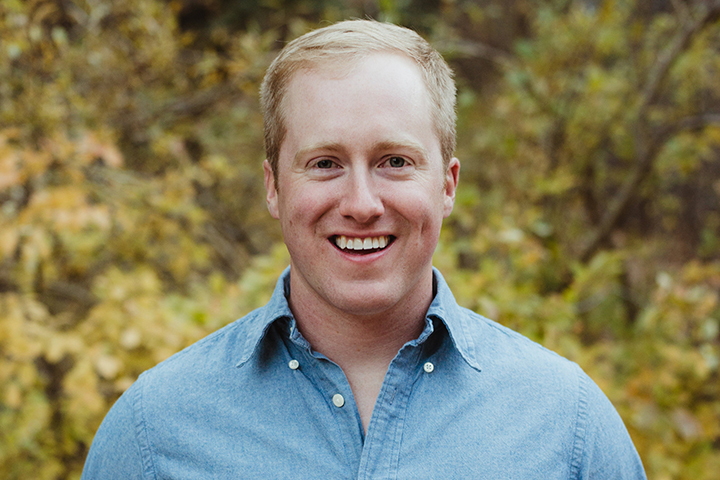 Luke Hutchison TNS'17 has always been called to make a difference. Born and raised in Minnesota, Hutchison attended West Point United States Military Academy, where he studied international relations. "The events of 9/11 had a significant impact on me and my decision to attend West Point and join the armed forces," he says. "I wanted to serve my country."
While at West Point, Hutchison learned about the Tuck School of Business from his commissioning officer and mentor, Aram Donigian T'08, who taught negotiation courses there. Little did he know that eight years later, he would find himself on campus studying business with Donigian and other world-class Tuck faculty members at Tuck Next Step, a general management certificate program inspired by the needs of military veterans and elite athletes.
Hutchison branched infantry at West Point before being sent to Fort Carson in Colorado Springs, where he was stationed for four weeks before his first deployment to Afghanistan. After his second deployment in 2016, Hutchison was asked to plan events for his unit, such as the post-deployment balls, meetings, and social events.
"It's easy to develop a scarcity mindset when you're transitioning from the military. It is such a big change and there is so much uncertainty. The Next Step program equips you with the tools to have an abundance mindset which makes a world of a difference."
—Luke Hutchison TNS'17
Throughout the process of event planning, Hutchison noticed several common pain points, including venue selection, contract negotiations, and detailing the event. Speaking with restauranteurs, he learned they experienced similar problems, including the challenges of formalizing a proposal, collection of payment, and coordinating details—not to mention having a private event space that sits empty much of the time.
This realization sparked a business idea inside Hutchison in early 2017, around the same time he decided to transition out of the military. Hearing that Hutchison was ready to transition, Donigian shared information about Next Step, where he is on the faculty. "From my first meeting with Luke, he impressed me as a creative and out-of-the-box thinker who wanted to find new ways to challenge himself, and any organization that he was a part of," he says. "I knew that Next Step at Tuck would further advance and refine his thinking, setting him up for a successful transition from the Army." Hutchison knew the timing was perfect. He applied to the program and was accepted to the first Next Step cohort in March 2017.
"When I returned from my second deployment, I did not know anything about business," he said. "Next Step helped build the foundational skills to talk the talk." Participating in Shark Tank during the program gave him the opportunity to pitch the idea he was working on, and he said, "things like that give you that extra confidence over time."
For Hutchison, Next Step bridged the cultural gap between the military and the civilian world by efficiently helping him explore the other side and make informed decisions about his future. He also loved the networking that took place in an environment with other ambitious veterans and athletes who were passionate about the next step of their career and opening their eyes to all the possibilities ahead.
It was soon after Next Step that Hutchison decided to give his idea a real shot. He incorporated Perfect Venue, an event management tool, in August 2017. Perfect Venue is designed for restaurateurs to streamline the booking process and acts as a platform for consumers to book a trusted venue with confidence, whether they are looking for a spot for lunch, a ballroom for a gala, or a hall for a concert. "It's similar to AirBnB, but for event spaces at restaurants," explains Hutchison.
Hutchison pursued the company full time after leaving the Army in 2018, and set about finding funding. When it came to raising money to back the concept, he dusted off the financial modeling class notes and gave it his best shot. "It has been really helpful on the entrepreneurial journey, having the initial foundation," he said. By the end of 2019, they had closed their first round of fundraising which was led by the first investor in Zoom with participation from one of the DoorDash founders amongst others.
Today, Hutchison is passionate about his work and committed to helping small business owners grow their companies. Perfect Venue does this by providing the tool to promote their space online and efficiently manage the booking process. Hutchison recently used what he learned at Next Step about pivoting and being flexible, as the team added a new Table Reservation feature during the COVID-19 pandemic to help restaurants re-open. The new feature allows people to more safely eat out at their favorite restaurants by adding enhanced safety measures like contactless payments. So far, they've helped five restaurants open with more than 1,000 reservations. "You still have the hospitality, but the administration and logistics of making a dinner reservation, the checks, the payment, are all happening behind the scenes," says Hutchison. "Everything is streamlined. We are excited to see how this turns out."
Hutchison encourages veterans who are considering entrepreneurship to think it through and pursue. "Progress does not just happen. Everything starts from one or two people hanging out, thinking about an idea, complaining about a problem, and taking actions to get the products into the world," he says. "It is fun and rewarding. It is meaningful to be part of building that future we all get to live in."
To learn more about the Next Step program, please visit the Tuck Next Step website.