By Betsy Vereckey
09 December 2019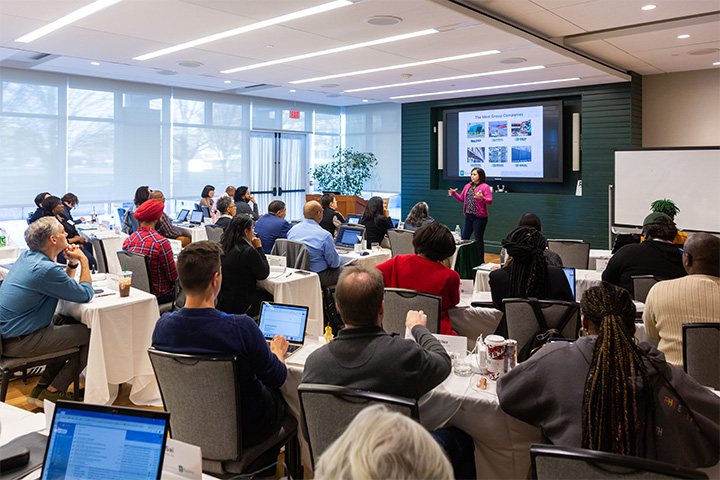 With the 40th anniversary of Tuck Executive Education's Diversity Business Programs on the horizon, faculty and staff are excited to celebrate the programs' legacy in 2020. The team is also taking this opportunity to update the programs to ensure that future offerings honor this history by continuing to meet the changing needs of diverse businesses.
That's why this past spring, after much brainstorming and discussion, the Tuck Minority Business Programs were renamed the Tuck Diversity Business Programs. This new name better reflects the changing demographics of today's entrepreneurs and coincides with Tuck's longstanding belief that diversity and inclusion are crucial to bettering the world of business.
Launched in 1980, Tuck's diversity programs are the oldest of their kind in the country. For decades, diverse entrepreneurs have been honing their business strategies, developing their leadership skills, and learning how to build successful enterprises by applying the lessons of Tuck faculty members who are recognized for their teaching excellence, their understanding of the challenges suppliers and entrepreneurs face, and their deep dedication to diverse business owners.
"Serving underrepresented populations in business has always been part of the mission of Tuck and of Dartmouth—it's part of the fabric and mission of who we are," says associate professor of business administration, Alva Taylor, who has taught in the program for 15 years. "To address the needs of what business owners are facing in today's world, we've made significant changes to modernize our programs so that our participating entrepreneurs are ready for what the future holds."
Among the changes are updated topics for creating successful organizations in today's and tomorrow's economy. The design of each program is a carefully constructed set of complementary sessions focused on a proven business toolkit, including knowledge and skills in critical advanced topics. Len Greenhalgh, who served as the programs' director for many years, notes that the programs have been successful because they have been continuously revised and improved upon.
"We change with the market and with the needs of our participating owners and top team members —we are constantly upgrading," Greenhalgh says. "Today's business world has changed immensely. It's far more digital now than it used to be. Automation and digital business innovations are transforming industries, and we have to adjust to succeed."
Tuck's programs are unique among programs built for underrepresented executives and business owners, says Emmanuel Ajavon, the associate director for Tuck's Diversity Business Programs.
"We have a dedicated team which has been focused on minority development for 40 years, including world-class faculty who have deep experience working with diverse entrepreneurs, and teach frameworks and action-based exercises that are directly applicable to the strategic opportunities and challenges facing our participants," Ajavon says. "My eyes have widened speaking to people who have gone through Tuck's programs and went on to achieve impressive levels of success."
As part of the overall rebranding, changes have been made to two key program options available to entrepreneurs. The newly renamed programs, "Building a Successful Diverse Business" and "Growing an Established Diverse Business" are both one-week immersive learning experiences that take place on the Dartmouth campus:
"Building a Successful Diverse Business" (previously known as "Building a High-Performing Business") is a foundational program that focuses on the essential tools that owners need to successfully establish their businesses in the marketplace.
"Growing an Established Diverse Business" (previously known as "Growing the Minority Business to Scale") is designed for established business owners who are positioned to accelerate their company's growth. Because the Growing program is designed to expand the knowledge and skill set, participants should have taken Building a Successful Diverse Business or have equivalent business experience to fully benefit from this advanced-level program.
"Tuck's commitment to the Diversity Business Programs is unwavering. Our DBP offerings closely align with our overall school strategy of offering personal, connected and transformative educational experiences," says Kevin Lane Keller, senior associate dean for innovation and growth. "We take great pride in what our past participants have accomplished and are constantly thinking of new ways to add even more value to future participants. We are excited to see what the next 40 years will bring!"
In coming months, Tuck Executive Education will be holding events around the country to celebrate the 40th anniversary. For more information on the Tuck Diversity Business Programs or our anniversary events, please visit our website.