By Rachel Hastings
22 June 2022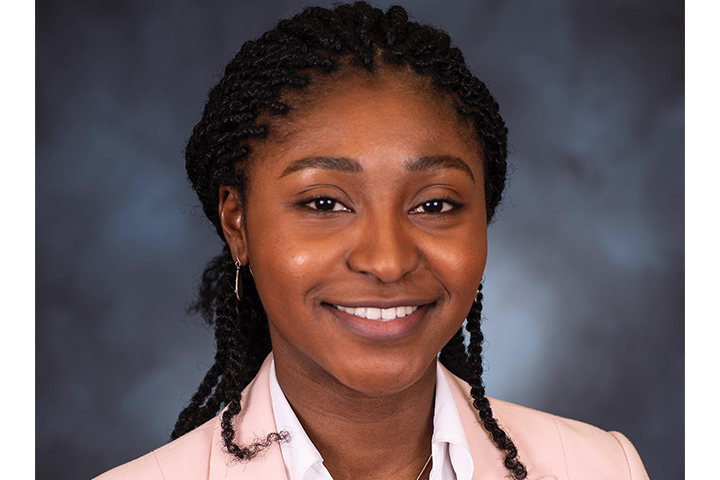 When Gloria Ayoade began her undergraduate degree in accounting at the University of Texas at Arlington, she had no plans to join the military. But on graduation, when she learned about the US Army Finance Corps, "it was an opportunity that presented itself at the perfect time."

After time stationed overseas in Italy, Ayoade's military career took a unique turn. "I wanted to do something a bit different or non-traditional while in uniform, so I sought out programs or assignments that would stretch me and provide a broader experience," she said. "It came soon enough and for my second assignment, I was selected for the White House Communications Agency in D.C., where I spent most of my time in the Army. Being a part of the mission there was humbling and called for greater personal responsibility than being in a different role would have." During her time in the role, Ayoade handled internal financial controls and project budgets for the White House and led the agency's finance and customer service teams.
Yet, despite her strong background in finance and a Master's in Public Administration, Ayoade was unsure how to plan her career pivot after leaving the military. On the recommendation of friends, she turned to Tuck Next Step, Tuck Executive Education's two-week business intensive for military veterans and elite athletes, enrolling in 2019.

One major challenge of life after the military? Navigating the sudden freedom to pursue any number of career paths.
"There is a sense of a fixed trajectory for most service members—it's not written in stone, I think we all have the potential to influence our paths, but there is a relatively predetermined option available to take as a military career progresses," she explained. "With Next Step, I was able to begin the process of self-discovery in relation to how and where I wanted to land after my service. Next Step was the ideal opportunity to resume thinking like a business professional, learning to ask the right questions, building connections and igniting creativity. All this was enhanced by the caliber of individuals in the cohort – both veterans and athletes."

Emerging from the more static mindset of the military, Ayoade found Next Step's focus on understanding and solving problems in new ways eye-opening. Access to thought-leaders like Vijay Govindarajan, whose three-box solution for innovation and strategy proved influential to her own business thinking, was especially invaluable. "The enthusiasm with which every Tuck staff, faculty, and student engaged with the Next Step cohort was truly inspiring," she said.

Thanks to Next Step's interactive approach to coursework and experiential learning, Ayoade also found insight in her work with fellow students. A business pitch challenge known as the "shark tank" stood out for powerfully engaging participants in problem-solving and creativity. "It's also a very organic way to connect with people because you discover what people truly care about and that creates an affinity and potential for collaboration," she said.

Those connections, Ayoade said, were built on unexpected common ground between elite athletes and veterans.
"Both groups often make a lifestyle out of what they do and tend to have a singular focus while at it. When the time comes to pivot, for whatever reason, whether it is a shift in what is desired, an injury, or retirement, having access to the right information and support is invaluable," she noted. "I think this need and the pursuit of it resonates loudly with both groups."

These days, Ayoade is applying that focus to her role as an area operations manager for Amazon Logistics in the United Kingdom. The position, she said, not only draws upon her Tuck Next Step learnings, but also the unique traits she developed thanks to her time in the military.

"The main similarities between the military and what I do now is largely in how readily one responds to change," she said. "Serving in the Army taught me adaptability and that's something that I often have to apply to contribute effectively in an environment like Amazon where response to customer needs is expected to be swift."